Abronia bigelovii
(Tufted sand verbena)
[taxon report]
[distribution map]
[all photos]
[line drawing]
---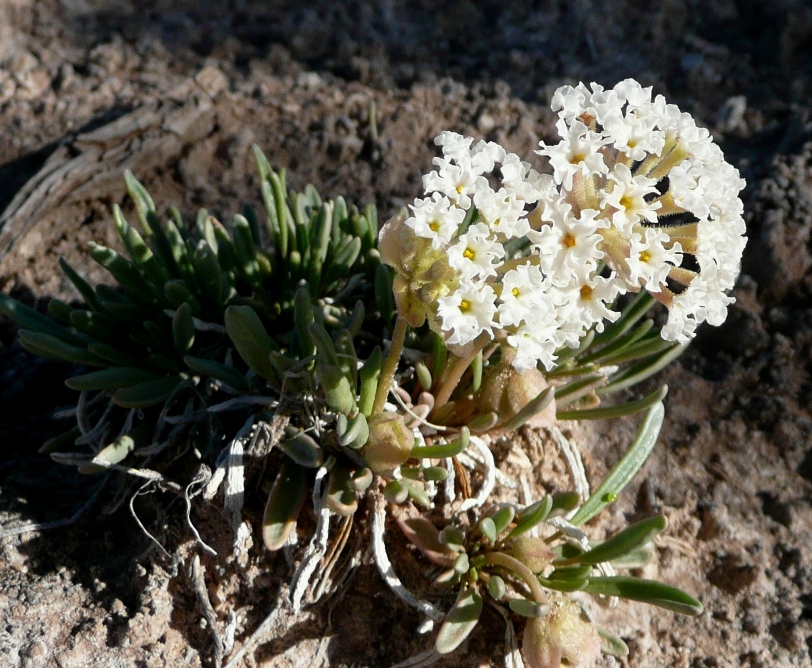 ---
Family: Nyctaginaceae
Scientific Name: Abronia bigelovii Heimerl
Synonyms: None
Vernacular Name: Tufted sand verbena
R-E-D Code: 1-1-3
Description: Dwarf, tufted, perennial, semi-succulent, grayish-green herb with leaves clustered on very short thick branches that remain near the ground; leaves linear to narrowly oblong, 1.5-5 cm long, 1.5-3 mm wide, smooth or with a few minute hairs; flowering stalks erect to spreading, 3-12 cm long, terminating in a head of 20-30 flowers; heads 2-3 cm broad, surrounded by pale, papery, ovate bracts; flowers trumpet-shaped, glandular, 1.5-2 cm long, the tube pinkish, the lobes whitish; fruit stiffly papery, about 8 mm long, with 4-5 ridges, containing within, a single black "seed" (technically the true fruit). Flowers May to October.
Similar Species: Abronia fragrans and A. elliptica, both with whitish trumpet-shaped flowers, grow in the same region. These species, however, do not form dense low tufts, and their leaves have ovate or broadly oblong blades. Abronia nana, from northern Arizona, southwestern Colorado, Utah, Nevada, and southern California forms low tufts, but the blades are differentiated into a distinct petiole and a broader, oval to elliptic blade.
---
Distribution: New Mexico, Sandoval, Santa Fe, and Rio Arriba counties.
Habitat: Hills and ridges of gypsum in the Todilto Formation, 1,750-2,250 m (5,700-7,400 ft).
Remarks: Populations are usually small and are restricted to gypsum or strongly gypseous soils derived from gypsum outcrops. Plants are conspicuous on the otherwise rather barren gypsum. Although locally rather common, they do not form dense populations.
Conservation Considerations: The species occurs in several populations. Extensive disturbance to its habitat, such as recreational vehicle use of gypseous hills or mining of gypsum outcrops, may seriously threaten some local populations.
Important Literature (*Illustration):
*New Mexico Native Plants Protection Advisory Committee. 1984. A handbook of rare and endemic plants of New Mexico. University of New Mexico Press, Albuquerque.
Standley, P.C. 1918. Allioniaceae. North American Flora 21(3):171-254.
Information Compiled By: Richard Spellenberg, 1999