Hexalectris arizonica
(Arizona crested coralroot)
[taxon report]
[distribution map]
[all photos]
[line drawing]
---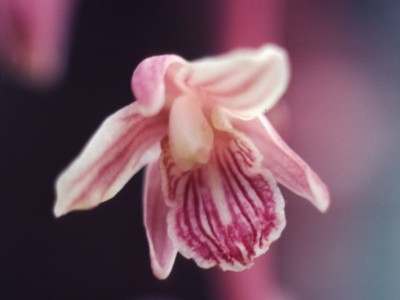 ---
Family: Orchidaceae
Scientific Name: Hexalectris arizonica (S. Watson) A.H. Kennedy & L.E. Watson
Synonyms: Corallorhiza arizonica S. Watson; Hexalectris spicata (Walter) Barnhart var. arizonica (S. Watson) Catling & Engel
Vernacular Name: Arizona crested coralroot
R-E-D Code: 2-1-2
Description: Stems pinkish-red, pinkish-yellow, or pinkish white; flowers with sepals pale creamy yellow or dull pale pinkish-purple with pinkish-red, pinkish-brown or pinkish-purple veins, connivent or spreading apically; dorsal sepal lanceolate to oblong, 15-18 by 2.7-4.5 mm; lateral sepals 13-15 by 4-7 mm; petals, mostly cream to white with pinkish-red or pinkish-brown veins, obovate, falcate, 14-16 by 4-5 mm; lip white or creamy-white, 12-14.5 by 10-12 mm, the five central veins with keels 0.2-0.7 mm high, midlobe pinkish-purple, with darkened pinkish-red or reddish-purple veins, with several longitudinal crests, the margin whitish, the lateral lobes similar; column white to cream, arcuate, 11-14 mm long, rostellum absent (or occasionally present). Flowers May through July.
Similar Species: Hexalectris spicata, which does not occur in New Mexico, has larger darker colored flowers and the keels on the lip petal are taller, 0.7-1 mm, versus 0.2-0.7 mm for H. arizonica. Corallorhiza may be confused with Hexalectris, buts its lip petal has no longitudinal crests.
---
Distribution: New Mexico, Dona Ana, Hidalgo, Otero, and Sierra counties; Arizona and Texas; Mexico, Coahuila.
Habitat: In heavy leaf litter in oak, pine, or juniper woodlands over limestone.
Remarks: This is primarily an autogamous species, the lack of a rostellum (in most plants) promoting selfing. Some plants of H. arizonica closely resemble H. spicata, which occurs from Texas eastward, but the species is genetically well defined (Kennedy and Watson 2010). It is widely distributed, but in very small colonies.
Conservation Considerations: Populations are small and might be easily obliterated by human activity. Careful observation is needed, with documenting collections, but collections should be made judiciously without digging the rhizome system.
Important Literature (*Illustration):
Luer, C.A. 1975. The native orchids of the United States and Canada. New York Botanical Garden, Bronx.
*Liggio, J. and A.O. Liggio. 1999. Wild orchids of Texas. University of Texas Press, Austin.
Kennedy, A.H. and L.E. Watson. 2010. Species delimitations and phylogenetic relationships within the fully myco-heterotrophic Hexalectris (Orchidaceae). Systematic Botany 35(1):64-76.
Catling, P.M. and V.S. Engel. 1993. Systematics and distribution of Hexalectris spicata var. arizonica (Orchidaceae). Lindleyana 8:119-125.
Information Compiled By: Richard Spellenberg, Tom Todsen,
Agency Status: