Hymenoxys ambigens var. neomexicana
(New Mexico bitterweed)
[taxon report]
[distribution map]
[all photos]
[line drawing]
---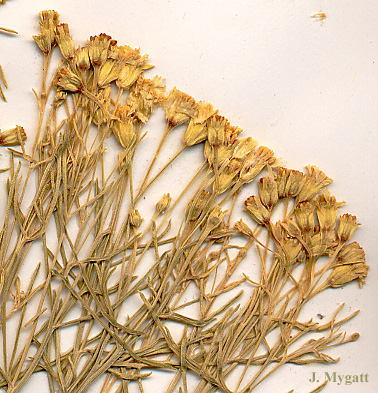 ---
Family: Asteraceae
Scientific Name: Hymenoxys ambigens (S.F. Blake) Bierner var. neomexicana W.L. Wagner
Synonyms: None
Vernacular Name: New Mexico bitterweed
R-E-D Code: 3-1-3
Description: Biennial or short-lived perennial herb; stems sometimes branching from a stout taproot, 4-15 dm tall, branching above; leaves in a reduced basal rosette and cauline, alternate, pinnatisect, the lobes filiform; inflorescence a cymose panicle (flat-topped), small, radiate, yellow; outer involucral bracts 5, 5-5.8 mm long, connate 2/3-3/4 of their length, the inner bracts cuneate, 3.5-3.8 mm long, truncate, usually mucronate; ray florets 4, 2.6-4 mm long, sometimes sparsely puberulent on the abaxial face; disk florets 8-10, the corollas 2.6-3.5 mm long, moderately to sparsely puberulent; pappus scales 2-4, sometimes absent on disk florets, the scales 1-2 mm long; achenes 1.8-2.8 mm long, translucent, white, with sparse, weakly flexuous hairs. Flowers July to October.
Similar Species: Hymenoxys richardsonii var. floribunda is very similar in habit, but is distinguished by its greater number of outer involucral bracts (approximately 8), which are 4-5 mm long and usually connate for less than half their length. The stems of H. richardsonii var. floribunda are conspicuously long-woolly-villous at the base.
---
Distribution: New Mexico, Hidalgo County, Peloncillo and Animas mountains.
Habitat: Rocky to sandy granitic soils on open canyon floors or slopes; oak woodland, Apache pine forests, or along intermittent streamsides with Arizona cypress, Arizona walnut, and Arizona sycamore; 1,640-2,200 m (5,400-7,250 ft).
Remarks: This plant was initially in the small genus Plummera, which was recently transferred to Hymenoxys. Hymenoxys ambigens and Hymenoxys microcephala have been combined as one species with three geographically discrete taxa at the varietal level: H. ambigens var. ambigens from south-central and southeastern Arizona, H. ambigens var. floribunda from southeastern Arizona, and H. ambigens var. neomexicana from southwestern New Mexico.
Conservation Considerations: This narrow endemic occurs in small populations and is known from only three localities, all within a 30 km area. It is not well studied and needs additional field surveys to determine abundance and potential threats.
Important Literature (*Illustration):
*Wagner, W.L., R.A. Fletcher and R.K. Shannon. 1999. Another look at Hymenoxys subgenus Plummera (Asteraceae: Heliantheae: Gaillardiinae) from Arizona and New Mexico. Brittonia 51(1):79-86.
Information Compiled By: Jane Mygatt, 2000
Agency Status: