Hymenoxys vaseyi
(Vasey's bitterweed)
[taxon report]
[distribution map]
[all photos]
[line drawing]
---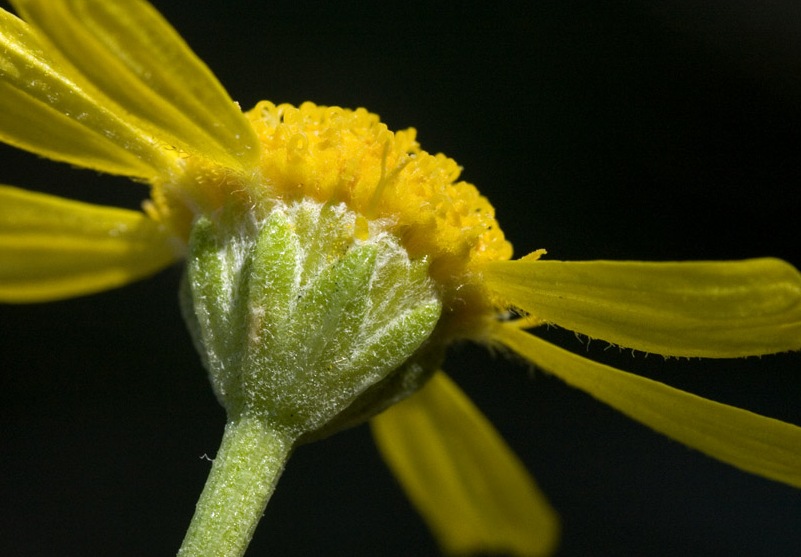 ---
Family: Asteraceae
Scientific Name: Hymenoxys vaseyi (A. Gray) Cockerell
Synonyms: Actinella vaseyi A. Gray; Picradenia vaseyi (A. Gray) Greene
Vernacular Name: Vasey's bitterweed
R-E-D Code: 2-1-3
Description: Perennial herb; stems one or a few from a branching base, 2-5 dm tall, glabrous or sparsely pubescent in the inflorescence; leaves once or twice parted into narrowly linear lobes; inflorescence corymbose (flat-topped); involucre of flower heads 8-10 mm tall, outer phyllaries united for 1/2 to 2/3 their length, inner phyllaries ciliate-margined and blunt to acute at the apex; flowers yellow, ray corollas usually as long as or longer than the length of the involucre; achenes appressed-hairy, pappus scales blunt or acute at the apex. Flowers August to October.
Similar Species: Hymenoxys richardsonii has pappus scales that taper to a fine point (acuminate) at the apex. Hymenoxys brachyactis is biennial with only one stem, has ray corollas shorter than the involucre, outer phyllaries united for 1/3 to 1/2 their length, and acute to acuminate pappus scales.
---
Distribution: New Mexico, eastern Dona Ana and eastern Sierra counties, Organ and San Andres mountains.
Habitat: Dry sites with coarse soils in montane scrub and piñon-juniper woodland; 2,100-2,500 m (6,900-8,200 ft).
Remarks: This is a variable and infrequently collected species in need of additional study.
Conservation Considerations: Very little is known of its abundance and habitat requirements. It needs additional field studies.
Important Literature (*Illustration):
*New Mexico Native Plants Protection Advisory Committee. 1984. A handbook of rare and endemic plants of New Mexico. University of New Mexico Press, Albuquerque.
Cockerell, T. 1904. The North American species of Hymenoxys. Bulletin of the Torrey Botanical Club 31:461-509.
Information Compiled By: Robert Sivinski, 1999
Agency Status: