Lepidospartum burgessii
(Gypsum scalebroom, Burgess' scale broom)
[taxon report]
[distribution map]
[all photos]
[line drawing]
---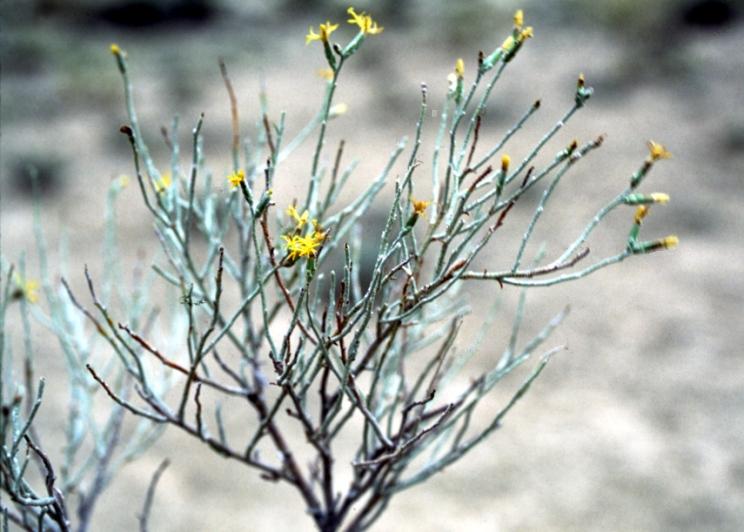 ---
Family: Asteraceae
Scientific Name: Lepidospartum burgessii B.L.Turner
Synonyms: None
Vernacular Name: Gypsum scalebroom, Burgess' scale broom
R-E-D Code: 3-3-2
Description: Broomlike shrub up to 1.5 m tall; stems many-branched, covered with silvery, matted, feltlike hairs out of which protrude numerous small oil blisters; leaves needlelike, alternate, 5-12 mm long; heads 3-4, terminal on stems; flowers 3, rarely 4, per head, bright yellow; achenes covered by dense white hairs and topped by a pappus of many slender bristles. Flowers June to October with peak in late July through early September.
Similar Species: This species has been mistaken for Chrysothamnus but the three rounded bracts of the involucre on the heads distinguish it from that genus.
---
Distribution: New Mexico, southern Otero County, Alkali Lakes; adjacent Texas, Hudspeth County.
Habitat: Stabilized gypsum dunes with Chihuahuan desert scrub and arid grassland; 1,050-1,110 m (3,500-3,700 ft).
Remarks: A very narrow endemic of the Alkali Lakes area west of the Guadalupe Mountains.
Conservation Considerations: There is little evidence of recruitment in Lepidospartum burgessii. Seed set is negligible and clonal propagation appears low. Development of private land may negatively impact the species.
Important Literature (*Illustration):
*New Mexico Native Plants Protection Advisory Committee. 1984. A handbook of rare and endemic plants of New Mexico. University of New Mexico Press, Albuquerque.
Ladyman, J.A.R., L. DeLay, P. Gegick and M.A. Bogan. 1999. Status and reproductive biology of Lepidospartum burgessii (Burgess broomshrub or gypsum scalebroom). Report to: U.S. Geological Survey, Biological Resource Division, Arid Lands Field Station, University of New Mexico, Albuquerque.
Turner, B.L. 1977. Lepidospartum burgessii (Asteraceae, Senecioneae), a remarkable new gypsophilic species from Trans-Pecos Texas. Wrightia 5:354-355.
Information Compiled By: Juanita A.R. Ladyman, 1999
Agency Status: