Physaria gordonii ssp. densifolia (Not NMRPTC Rare)
(Lincoln bladderpod)
[taxon report]
[distribution map]
[all photos]
[line drawing]
---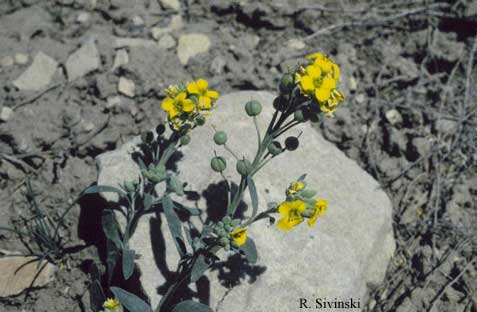 ---
Family: Brassicaceae
Scientific Name: Physaria gordonii (A. Gray) O'Kane & Al-Shehbaz ssp. densifolia (Rollins) O'Kane & Al-Shehbaz
Synonyms: The NMRPTC considers Physaria gordonii ssp. densifolia (Rollins) O'Kane & Al-Shehbaz to be a synonym of Physaria gordonii (A. Gray) O'Kane & Al-Shehbaz; Lesquerella gordonii (A. Gray) S. Watson var. densifolia Rollins
Vernacular Name: Lincoln bladderpod
R-E-D Code: 3-1-3
Description: Annual or short-lived perennial; caudex simple; stems spreading to prostrate; basal leaves numerous, petiolate, broadly oblanceolate; stem leaves densely overlapping, less than 2 cm long, sessile, linear-oblanceolate; petals bright yellow, 8-10 mm long by about 4 mm wide; fruiting pedicels divaricately ascending, 8-10 mm long, straight or nearly so; silicles ovate to nearly spherical, glabrous, with a stipe less than 1 mm long; styles 2-3 mm long; ovules 6-8 per locule. Flowers in April and early May.
Similar Species: Physaria gordonii ssp. gordonii, which is nearly sympatric, but grows at generally lower elevations has fewer usually loosely arranged stem leaves, and sigmoid pedicels. Physaria valida grows with P. gordonii var. densifolia, but is easily distinguished by its pubescent silicles. Physaria aurea occasionally has prostrate stems, which are usually densely-leafy, but its fruiting pedicels are recurved and there are only 2(3) ovules per locule.
---
Distribution: New Mexico, Lincoln County.
Habitat: Rolling hills in pion-juniper savanna; 1,800-2,100 m (5,900-6,900 ft).
Remarks: Physaria gordonii ssp. densifolia supposedly has denser stem leaves than Physaria gordonii. This highly variable characteristic is more dependent on good growing conditions than on genetic differences between plants. An Isotype held at NMSU, collected April 13, 1990, has full basal rosettes and abundant lower stem leaves. Rosettes and lower stem leaves wither with dryer growing conditions later in the spring making plants that are robust in early spring look like regular Physaria gordonii later in the season. Observation of plants at the type locality for several seasons reveals a confusing mixture of normal Physaria gordonii and plants that might be called subspecies densifolia. The NMRPTC concluded at its annual meeting in 2003 that subspecies densifolia does not deserve recognition as a unique entity.
Rollins described subspecies densifolia in 1993. Specimens assigned to this subspecies have only been collected at two locations near the towns of Lincoln and Capitan where it is locally abundant along disturbed roadsides.
Conservation Considerations: None
Important Literature (*Illustration):
Rollins, R.C. 1993. The Cruciferae of continental North America. Stanford University Press, Stanford, California.
Al-Shehbaz, I.A. and S.L. O'Kane, Jr. 2002. Lesquerella is united with Physaria (Brassicaceae). Novon: A Journal for Botanical Nomenclature from the Missouri Botanical Garden 12:319-329.
Information Compiled By: David Bleakly, 1999; last updated 2006