Mentzelia springeri
(Springer's blazing star)
[taxon report]
[distribution map]
[all photos]
[line drawing]
---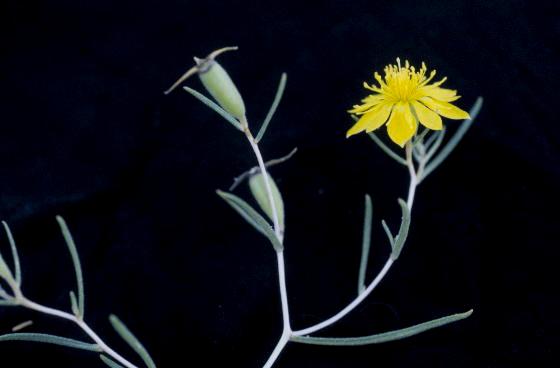 ---
Family: Loasaceae
Scientific Name: Mentzelia springeri (Standley) Tidestrom
Synonyms: Nuttallia springeri Standley
Vernacular Name: Springer's blazing star
R-E-D Code: 1-1-3
Description: Perennial herb; stems several with numerous branches (bushy appearance), slender, 3-5 dm tall, white, glabrous to above the middle, puberulent near the top; basal leaves absent; lower stem leaves narrowly lanceolate to linear, up to 4 cm long, entire or with a few shallow teeth; upper stem leaves linear and mostly entire, usually less than 2.5 cm long; herbage pubescent with barbed hairs (stick to cloth); flowers solitary at the ends of slender branches; petals 10, bright yellow, 10-15 mm long; capsules narrowly cylindrical, 5-10 mm long; seeds lenticular, narrowly winged. Flowers open in late afternoon, July through August.
Similar Species: Mentzelia multiflora occurs on similar habitats in the Jemez Mountains. It is a biennial with one or a few stout stems, fewer branches, and 1-3 flowers at the ends of branches. The leaves of M. multiflora are larger, broader, with toothed or pinnatifid margins, petals are cream-colored or pale yellow, and capsules broader and 12-18 mm long.
---
Distribution: New Mexico, Los Alamos, northeastern Sandoval and northwestern Santa Fe counties, Jemez Mountains.
Habitat: Volcanic pumice and unconsolidated pyroclastic ash in piñon-juniper woodland and lower montane coniferous forest; 2,150-2,450 m (7,000-8,000 ft).
Remarks: Named for the paleontologist, Frank Springer, who first collected this species. Mentzelia springeri was placed into synonymy with M. multiflora in 1934 by Darlington and, therefore, has not been adequately studied nor represented in the floristic literature. This bushy, yellow-flowered species is narrowly endemic to the loose volcanic substrates of the Jemez Mountains and is often seen where roads cut through pumice.
Conservation Considerations: It favorably responds to soil disturbance within its habitats.
Important Literature (*Illustration):
Darlington, J. 1934. A monograph of the genus Mentzelia. Annals of the Missouri Botanical Garden 21:103-225.
Sivinski, R.C. 1998. Review and resurrection of Mentzelia springeri (Loasaceae). New Mexico Naturalist's Notes 1(2):43-45.
Standley, P.C. 1913. Five new plants from New Mexico. Proceedings of the Biological Society of Washington 26:115-120.
Information Compiled By: Robert Sivinski, 1999
Agency Status: