Muhlenbergia villiflora var. villosa
(Hairy muhly)
[taxon report]
[distribution map]
[all photos]
[line drawing]
---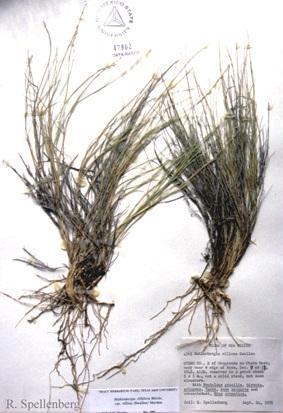 ---
Family: Poaceae
Scientific Name: Muhlenbergia villiflora A.S. Hitchcock var. villosa (Swallen) Morden
Synonyms: Muhlenbergia villosa Swallen
Vernacular Name: Hairy muhly
R-E-D Code: 1-1-2
Description: Rhizomatous perennial; stems much branched above, wiry, 4-30 cm tall, usually growing in isolated clumps and seldom forming dense stands; blades short, less than 3 cm long, strongly involute; inflorescence a narrow contracted panicle, 1-5 cm long, usually extending out of the upper leaf sheath; spikelets 1.8-2.5 mm long; glumes about half as long as the spikelet, 1-nerved; lemma about as long as the spikelet, densely villous near the base and along the 3 nerves, awnless or with a tiny awn-tip. Flowers August to September.
Similar Species: Muhlenbergia villiflora var. villiflora of gypsum soils in northern Mexico has smaller spikelets. Muhlenbergia repens, which occurs in the same area in New Mexico, and M. richardsonis form dense mats and have glabrous spikelets.
---
Distribution: New Mexico, Eddy and Otero counties; Texas in Trans-Pecos, Edwards Plateau, and southern high plains.
Habitat: Open desert grassland and desert savanna, alkaline to calcareous soil; 1,400-1,600 m (4,800-5,200 ft).
Remarks: Known from only three collections in New Mexico, but more frequent eastward in Texas.
Conservation Considerations: Livestock grazing of the desert grasslands seems to be the primary threat to this taxon.
Important Literature (*Illustration):
*Hitchcock, A.S. and A. Chase. 1951. Manual of the grasses of the United States (2nd edition). United States Department of Agriculture Miscellaneous Publication Number 200. p. 384.
Morden, C.W. 1995. A new combination in Muhlenbergia (Poaceae). Phytologia 79(1):28-30.
Morden, C.W. and S.L. Hatch. 1996. Morphological variation and synopsis of the Muhlenbergia repens complex (Poaceae). Sida 17(2):349-365.
Information Compiled By: Kelly W. Allred, 1999
Agency Status: