Packera cardamine
(Heartleaf groundsel)
[taxon report]
[distribution map]
[all photos]
[line drawing]
---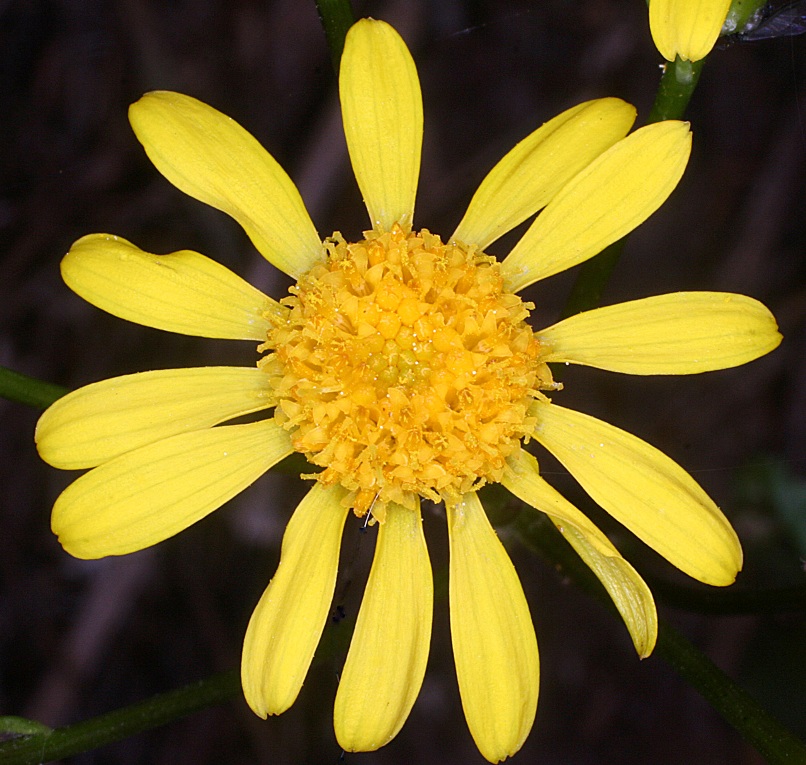 ---
Family: Asteraceae
Scientific Name: Packera cardamine (Greene) W.A. Weber & A. Love
Synonyms: Senecio cardamine Greene
Vernacular Name: Heartleaf groundsel
R-E-D Code: 2-1-2
Description: Perennial herb; herbage glabrous; stems 2-5 dm tall; leaves mostly basal, heart-shaped to nearly round, petiolate, semisucculent, blades 2-5 cm long and across; upper stem leaves few, sessile, clasping, longer than wide; inflorescence of 1-3 flower heads teminating stems; heads about 1 cm high; phyllaries narrow, in a single series; ray flowers 8-10 per head, about 5 mm long, yellow; disk flowers yellow, numerous; pappus of numerous white capillary bristles; achenes glabrous. Flowers late April to August.
Similar Species: This species should not be confused with any other Packera. Its broadly rounded basal leaf blades are distinctive.
---
Distribution: New Mexico, Catron County, Mogollon Mountains; adjacent Arizona, White Mountains.
Habitat: Steep slopes and forest understory in upper montane coniferous forest; 2,440-3,050 m (8,000-10,000 ft).
Remarks: An endemic to climax spruce-fir forest in the high mountains of southwestern New Mexico and adjacent Arizona. Populations are small and sporadic, but not infrequent in suitable habitat. The dark green, heart-shaped, semisucculent leaves resemble Cardamine and inspired the specific epithet of this species' name.
Conservation Considerations: Many populations of this species burned in the 2012 Whitewater-Baldy Fire. Although plants survived the fire, long-term persistence is questionable in a completely altered habitat.
Important Literature (*Illustration):
*New Mexico Native Plants Protection Advisory Committee. 1984. A handbook of rare and endemic plants of New Mexico. University of New Mexico Press, Albuquerque.
Barkley, T.M. 1978. Senecio. In: North American flora, series 2. 10:50-139.
Weber, W.A. and Àskell Löve. 1981. New combinations in the genus Packera (Asteraceae). Phytologia 49:44-50.
Roth, D. 2016. Wildfire Impacts on Species of Concern Plants in the Gila National Forest, New Mexico. Unpublished report prepared by EMNRD-Forestry Division, Santa Fe, NM for the U.S. Fish & Wildlife Service, Region 2, Albuquerque, NM. 48 pp.
Information Compiled By: Robert Sivinski, 1999; updated 2016
Agency Status: