Packera quaerens (Not NMRPTC Rare)
(Gila groundsel)
[taxon report]
[distribution map]
[all photos]
[line drawing]
---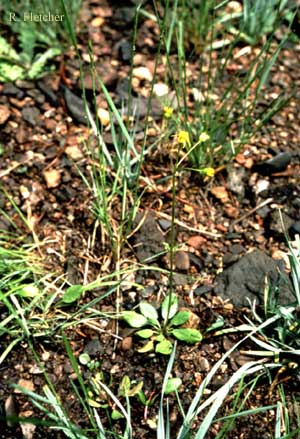 ---
Family: Asteraceae
Scientific Name: Packera quaerens (Greene) W.A. Weber & A. Love
Synonyms: Packera quaerens (Greene) W.A. Weber & A. Love is now a synonym of Packera hartiana (A. Heller) W.A. Weber & A. Love; Senecio quaerens Greene
Vernacular Name: Gila groundsel
R-E-D Code: 2-2-2
Description: Perennial; stems erect, 30-60 cm tall, nearly glabrous except for thin, floccose tomentum in leaf axils; leaves glabrous or nearly so, mostly basal, with oval blades that are broadly rounded at apex and shallow serrate-toothed along margins; stem leaves few, usually deeply and regularly toothed and acute at apex; heads several, 8-10 mm high; phyllaries narrow, in a single series; ray flowers 8-13, yellow; pappus of numerous white capillary bristles, achenes glabrous. Flowers July and August.
Similar Species: Packera hartiana and P. quaerens are sympatric. Packera quaerens lacks stolons, is nearly glabrous, and is found on wet soils. The somewhat drier habitats of P. hartiana, its occasional stolons, and more pubescent inflorescence and lower leaf surfaces, were used to differentiate the two taxa. There are many intermediate forms with problematic identities.
---
Distribution: New Mexico, Catron County, Mogollon and San Francisco mountains; adjacent Arizona, mountains of Greenlee and Apache counties.
Habitat: Wet meadows and stream banks in upper montane coniferous forest; 2,450-2,750 m (8,000-9,000 ft).
Remarks: Several of the species in the Packera hartiana Complex, which includes P. quaerens, are very difficult to differentiate. Packera quaerens is treated as a synonym of P. hartiana in Flora of North America, Vol. 20 (2006). The NMRPTC accepts this taxonomic treatement. Packera hartiana is a common species found in AZ, NM, and TX that does not meet NMRPTC criteria as rare.
Conservation Considerations: Packera quaerens and Trifolium longipes ssp. neurophyllum often occur in the same habitat. Both are rare riparian species in the Mogollon Mountains. This habitat type has historically been heavily utilized in a number of way and needs more intensive protective management.
Important Literature (*Illustration):
*New Mexico Native Plants Protection Advisory Committee. 1984. A handbook of rare and endemic plants of New Mexico. University of New Mexico Press, Albuquerque.
Barkley, T.M. 1978. Senecio. In: North American flora, series 2. 10:50-139.
*Ivey, R.D. 1995. Flowering plants of New Mexico, 3rd edition. Published by the author, Albuquerque, New Mexico.
Flora of North America Editorial Committee. 2006. Flora of North America, volume 20. Oxford University Press, New York.
Information Compiled By: Robert Sivinski, 1999; last updated 2007