Penstemon breviculus (Not NMRPTC Rare)
(Narrow-mouth penstemon)
[taxon report]
[distribution map]
[all photos]
[line drawing]
---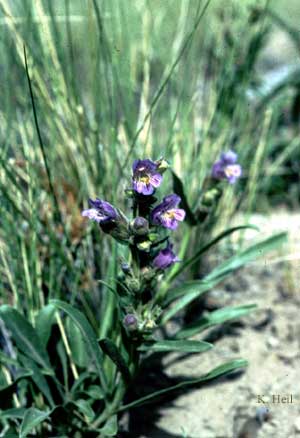 ---
Family: Scrophulariaceae
Scientific Name: Penstemon breviculus (Keck) Nisbet & Jackson
Synonyms: Penstemon jamesii Bentham ssp. breviculus Keck
Vernacular Name: Narrow-mouth penstemon
R-E-D Code: 1-2-2
Description: Perennial; stems 0.8-2.0 dm tall, erect, or slightly upward-curving, retrorsely puberulent; leaves mostly basal, opposite, entire or rarely few toothed, lanceolate, elliptic, or spatulate, basal leaves somewhat petiolate, stem leaves sessile; inflorescence short, 4-12 cm long; calyx 5-8 mm long in flower, lobes lanceolate, glandular hairy; corollas 10-15 mm long, throat 3.5-6 mm wide, dark blue to purple with dark violet-purple guidelines, glandular, pubescent externally; staminode included within the throat or barely projecting but clearly visible, bearded with yellow thread-like hairs its full length, the hairs pointing back down the throat; fertile stamens explanate. Flowers May and June.
Similar Species: The corolla of Penstemon ophianthus is mostly 14-22 mm long, the throat is 7-10 mm broad, and the staminode protrudes from the throat.
---
Distribution: New Mexico, San Juan and McKinley counties; adjacent Arizona, Colorado and Utah.
Habitat: Sandy or clay soils of the Ojo Alamo Sandstone or Nacimiento Formation; sagebrush and pinyon-juniper associations; 1,450-1,850 m (4,800-6,000 ft).
Remarks: This species is a Four Corners endemic. New Mexico has 16 specimen records, Arizona has 1, Colorado has 24, and Utah has 11, for a total of 52. When taken in aggregate Penstemon breviculus appears to be fairly common across its range of about 195 miles. The range and abundance of this species are too great to qualify as rare under NMRPTC criteria.
Conservation Considerations: Not significantly threatened by the prevailing land uses within its habitat. Small portions of some populations have been eliminated by energy development activities, including pipelines, well pads, and road building.
Important Literature (*Illustration):
*Heflin, J. 1997. Penstemons: The beautiful beardtongues of New Mexico. Jackrabbit Press, Albuquerque, New Mexico.
*Cronquist, A., A.H. Holmgren, N.H. Holmgren, P.L. Reveal and P. Holmgren. 1984. Intermountain flora, vol. 4. New York Botanical Garden, Bronx.
Information Compiled By: Ken Heil, Joey Herring, 1999; last updated 2006