Penstemon cardinalis ssp. cardinalis
(Scarlet penstemon)
[taxon report]
[distribution map]
[all photos]
[line drawing]
---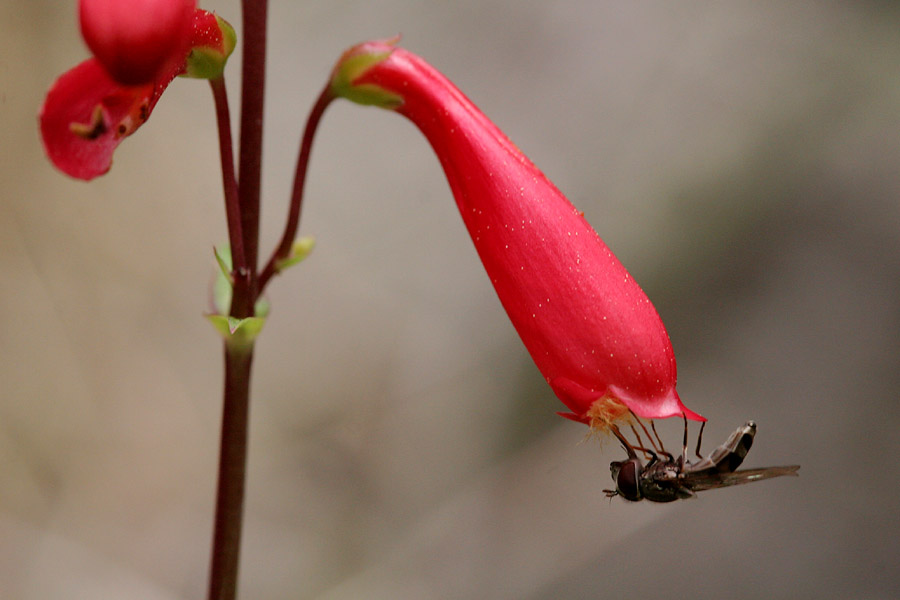 ---
Family: Scrophulariaceae
Scientific Name: Penstemon cardinalis Wooton & Standley ssp. cardinalis
Synonyms: Penstemon crassulus Wooton
Vernacular Name: Scarlet penstemon
R-E-D Code: 2-1-3
Description: Perennial herb; stems gray-green, glabrous, up to 70 cm tall, branching from the base; leaves opposite, entire, slightly thickened, basal leaves short petiolate, ovate to elliptic, to 12 cm long, stem leaves smaller, sessile, ovate to lanceolate; flowers mostly concentrated along one side of the stem; calyx 3-5 mm long, lobes ovate, acute or obtuse, thinnest near the margins; corolla red, 22-30 mm long, narrowed at the mouth, lower lobes bearded with soft yellow hairs; sterile stamen bearded near the tip. Flowers June and July.
Similar Species: Penstemon cardinalis ssp. regalis has thicker leaves, longer calyx (4-6 mm), sharply pointed calyx lobes, blooms from May to June, and is restricted to rocky ridges of the Guadalupe Mountains. Penstemon alamosensis and P. barbatus both have red funnelform corolla tubes whereas the corollas of P. cardinalis are somewhat inflated in the tube and constricted at the mouth, resembling a bag with a drawstring partly closed.
---
Distribution: New Mexico, Lincoln and northern Otero counties, Sacramento and Capitan mountains.
Habitat: Canyon bottoms and rocky slopes in piñon-juniper woodland and lower montane coniferous forest; 2,100-2,700 m (7,000-9,000 ft).
Remarks: Distribution of populations is scattered and sporadic. It is becoming a popular landscaping plant.
Conservation Considerations: Prevailing land uses do not appear to significantly threaten this species. Commercially grown seed and plants grown from seed are available through local native plant nurseries.
Important Literature (*Illustration):
*New Mexico Native Plants Protection Advisory Committee. 1984. A handbook of rare and endemic plants of New Mexico. University of New Mexico Press, Albuquerque.
*Heflin, J. 1997. Penstemons: The beautiful beardtongues of New Mexico. Jackrabbit Press, Albuquerque, New Mexico.
Information Compiled By: Ken Heil, Joey Herring, 1999
Agency Status: