Penstemon cardinalis ssp. regalis
(Guadalupe penstemon)
[taxon report]
[distribution map]
[all photos]
[line drawing]
---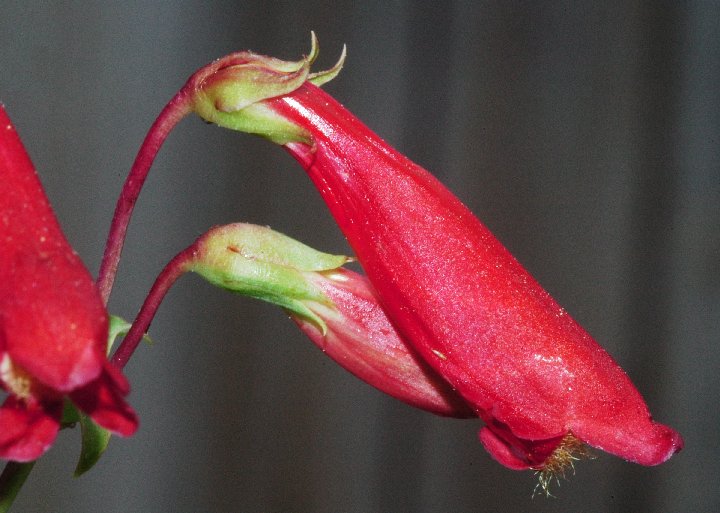 ---
Family: Scrophulariaceae
Scientific Name: Penstemon cardinalis Wooton & Standley ssp. regalis (A. Nelson) Nisbet & R.C. Jackson
Synonyms: Penstemon regalis A. Nelson
Vernacular Name: Guadalupe penstemon
R-E-D Code: 1-1-2
Description: Perennial herb; stems 40-100 cm tall; leaves opposite, thick, to 6 cm long and 5 cm wide, heart-shaped; inflorescence secund (one-sided), the cymules paired, well spaced, 2-flowered; calyx 4-6 mm long; corolla 26-30 mm long, red, narrowed at the mouth, lobes small, the lower bearded with soft, yellow hairs. Flowers May to June.
Similar Species: Penstemon cardinalis ssp. cardinalis has thinner, narrower leaves, shorter calyx (3 mm), blooms from June to July, and is restricted to the rocky slopes and canyon bottoms of the Sacramento, Capitan, and Oscuro mountains. Penstemon barbatus is another red-flowered species in the Guadalupe Mountains, but it has narrow leaves and a funnelform corolla tube, whereas the broad-leafed P. cardinalis ssp. regalis has a somewhat inflated corolla that is constricted at the mouth, resembling a bag with a drawstring partly closed.
---
Distribution: New Mexico, Eddy and Otero counties, Guadalupe Mountains; Texas, Hudspeth County.
Habitat: Limestone slopes and canyon bottoms in montane scrub, piñon-juniper woodland, and lower montane coniferous forest; 1,400-1,800 m (4,500-6,000 ft).
Remarks: Even though the Guadalupe penstemon is restricted in range, it is locally abundant, and occurs in several remote canyons of the Guadalupe Mountains of New Mexico and Texas.
Conservation Considerations: The remote, inaccessable habitats of this plant offer a great deal of protection from human impacts.
Important Literature (*Illustration):
*New Mexico Native Plants Protection Advisory Committee. 1984. A handbook of rare and endemic plants of New Mexico. University of New Mexico Press, Albuquerque.
*Heflin, J. 1997. Penstemons: The beautiful beardtongues of New Mexico. Jackrabbit Press, Albuquerque, New Mexico.
Information Compiled By: Ken Heil, Joey Herring, 1999
Agency Status: