Penstemon deaveri (Not NMRPTC Rare)
(Mount Graham beardtongue)
[taxon report]
[distribution map]
[all photos]
[line drawing]
---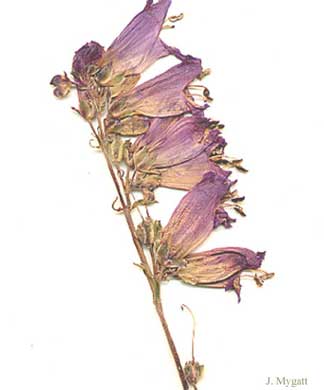 ---
Family: Scrophulariaceae
Scientific Name: Penstemon deaveri Crosswhite
Synonyms: Penstemon hallii A. Gray var. arizonicus A. Gray; Penstemon virgatus A. Gray ssp. arizonicus (A. Gray) Keck
Vernacular Name: Mount Graham beardtongue
R-E-D Code: 1-1-2
Description: Plants perennial, robust; stems, 2-6 dm tall, pubescent; inflorescence puberulent, not glandular, narrow; corolla varying from blue-purple to violet-purple or lavender, 16-25 mm long, widely inflated, base of lower lobes (sparsely to) moderately white-bearded; stamens completely dehiscent to more-or-less explanate, glabrous; staminode tip sparsely (to densely) bearded with yellow hairs. Flowers July through September.
Similar Species: This plant and the closely related, similar, and much more widespread Penstemon virgatus are mostly allopatric. In P. virgatus the staminode is glabrous and the base of the lower corolla lobes is glabrous or lightly bearded, whereas in P. deaveri the staminode is sparsely yellow-bearded and the bases of the lower corolla lobes are white-bearded.
---
Distribution: New Mexico, Catron, Cibola, and Socorro counties; adjacent Arizona, Apache, Graham, Greenlee, and Yavapai counties.
Habitat: Slopes and rocky areas from ponderosa pine forest to above timberline (in Arizona); 1,980-3,440 m (6,500-11,280 ft).
Remarks: Arizona herbaria have 78 collections of this species, mostly from Apache, Greenlee, and Graham counties where it appears to be relatively common. The Yavapai County, Arizona, specimens are disjunct from the others, so the plant's range may include the area in between. It is less common in New Mexico, but there are still 12 specimens collected from the San Mateo Mountains west to the Arizona border. The range of this species is at least 150 miles and extends to about 250 miles if the Yavapai County, Arizona, specimens are included. This plant is too abundant and has too great a range to be considered rare under NMRPTC criteria.
Conservation Considerations: Current land uses apparently pose no threat to this species.
Important Literature (*Illustration):
*Crosswhite, F.S. 1967. Revision of Penstemon section Habroanthus (Scrophulariaceae). American Midland Naturalist 77:1-41.
Information Compiled By: David Bleakly, 1999; last updated 2007