Penstemon lentus (Not NMRPTC Rare)
(Abajo penstemon)
[taxon report]
[distribution map]
[all photos]
[line drawing]
---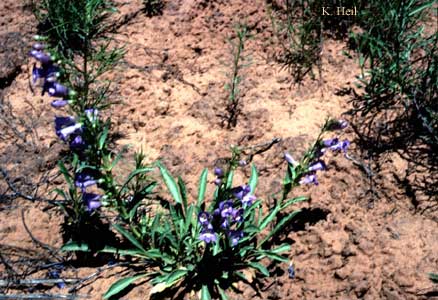 ---
Family: Scrophulariaceae
Scientific Name: Penstemon lentus Pennell
Synonyms: None
Vernacular Name: Abajo penstemon
R-E-D Code: 1-1-2
Description: Perennial herb, 3-5 dm tall; herbage glaucous, glabrous; stems ascending to erect, 1-few; leaves 2-11 cm long, 5-30 mm wide, fleshy, entire, the basal and lower stem leaves petiolate, spatulate, the upper leaves sessile, ovate to lanceolate; inflorescence of 4-8 well spaced pairs of cymes (verticillasters), occasionally somewhat congested, glabrous; cymes 1-3 flowered, secund, relatively loose with elongate peduncles and pedicels; calyx 4-8 mm long, glabrous; corolla 17-23 mm long, lavender to blue-violet or white, guidelines absent or obscure; stamens included or reaching the orifice; staminode included or reaching the orifice, bearded distally with yellow hairs. Flowers May and June.
Similar Species: The congested inflorescence of Penstemon angustifolius has prominent bracts, short internodes and peduncles, and is not secund. Calyx margins of P. secundiflorus are broadly scarious and often pinkish or purplish, whereas those of P. lentus are narrowly scarious and usually not colored.
---
Distribution: New Mexico, McKinley and San Juan counties; northeastern Arizona, southwestern Colorado, and southeastern Utah.
Habitat: Sagebrush, pion-juniper woodland, Gambel oak, and ponderosa pine communities; 1,350-2,300 m (4,500-7,500 ft).
Remarks: Penstemon lentus is a Four Corners endemic that is much more abundant in Colorado and Utah than in New Mexico or Arizona. New Mexico has 4 specimen records, Arizona has 7, Colorado has 39, and Utah has 56. Its total range is about 160 miles. The range and abundance of this species are too great to qualify as rare under NMRPTC criteria.
The variety Penstemon lentus var. albiflorus has white or very pale pink corollas and occurs only in Utah in the vicinity of Natural Bridges National Monument and the west side of the Abajo Mountains. This variety is rare, but does not occur in New Mexico.
Conservation Considerations: It does not appear to be threatened by the prevailing land uses within its habitats.
Important Literature (*Illustration):
*Cronquist, A., A.H. Holmgren, N.H. Holmgren, J.L. Reveal and P.K. Holmgren. 1984. Intermountain flora, vol. 4. New York Botanical Garden, Bronx.
Heflin, J. 1997. Penstemons: The beautiful beardtongues of New Mexico. Jackrabbit Press, Albuquerque, New Mexico.
Welsh S.L., N.D. Atwood, L.C. Higgins and S. Goodrich. 1993. A Utah flora, 2nd ed. Brigham Young University Press, Provo, Utah.
Information Compiled By: Ken Heil, Joey Herring, 1999; last updated 2006