Perityle quinqueflora
(Five-flowered rock daisy)
[taxon report]
[distribution map]
[all photos]
[line drawing]
---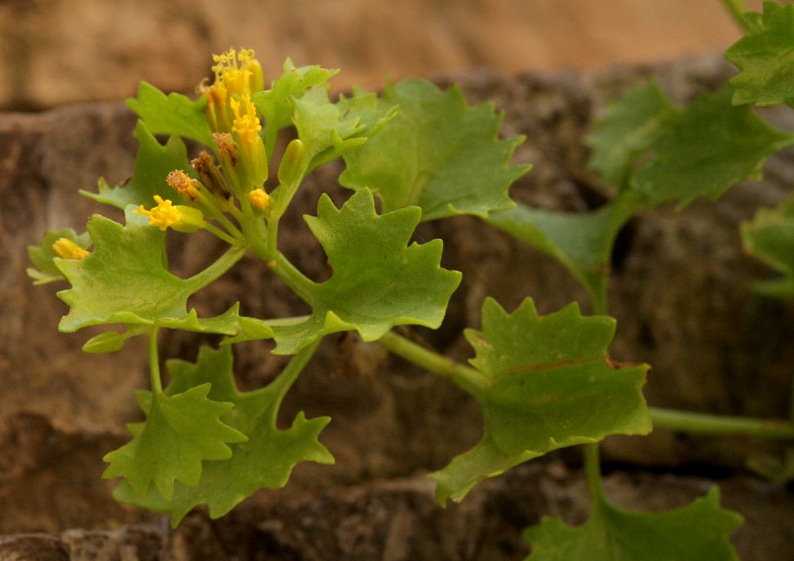 ---
Family: Asteraceae
Scientific Name: Perityle quinqueflora (Steyermark) Shinners
Synonyms: Laphamia quinqueflora Steyermark; Pappothrix quinqueflora (Steyermark) Everly
Vernacular Name: Five-flowered rock daisy
R-E-D Code: 2-1-2
Description: Tufted perennial from a woody base; stems to 30 cm tall; leaves opposite in lower portion, becoming alternate above, the blades 15-25 mm long, 8-20mm wide, thickened and leathery, broadly triangular to kidney-shaped, somewhat toothed to very shallowly lobed on the margins; flower heads cylindrical, in open clusters, rayless, 7-9 mm high; involucral bracts five or six, appearing as a single series; disk florets yellow, 5-6(8); pappus of 25-30 unequal bristles at the summit of the flattened achene. Flowers April to October.
Similar Species: This species grades into Perityle rupestris, which occurs in eastern Jeff Davis County, Texas. Perityle quinqueflora can be distinguished by its more fleshy leaves and its five-flowered heads.
---
Distribution: New Mexico, Eddy County; Texas, Culberson, Hudspeth, Presidio, and western Jeff Davis counties.
Habitat: Crevices of limestone (rarely igneous) bluffs, cliffs in high canyons and caprock, 1,530-1,830 m (5,000-6,000 ft).
Remarks: This species is unique owing to its relative rarity, striking appearance, and restricted habitat.
Conservation Considerations: Relatively inaccessible habitats provide a large degree of protection for this species.
Important Literature (*Illustration):
*New Mexico Native Plants Protection Advisory Committee. 1984. A handbook of rare and endemic plants of New Mexico. University of New Mexico Press, Albuquerque.
Everly, M.L. 1947. A taxonomic study of the genus Perityle and related genera. Contributions from the Dudley Herbarium of Stanford University 3:377-396.
Niles, W.E. 1970. Taxonomic investigations in the genera Perityle and Laphamia (Compositae). Memoirs of the New York Botanical Garden 21:l-82.
*Powell, A.M. 1969. Taxonomy of Perityle section Pappothrix (Compositae: Peritylanae). Rhodora 71:58-93.
Shinners, L.H. 1959. Species of Lapharnia transferred to Perityle (Compositae: Helenieae). Southwestern Naturalist 4:204-206.
Information Compiled By: Yvonne Chauvin, 1999
Agency Status: