Phemeranthus humilis
(Pinos Altos fame flower)
[taxon report]
[distribution map]
[all photos]
[line drawing]
---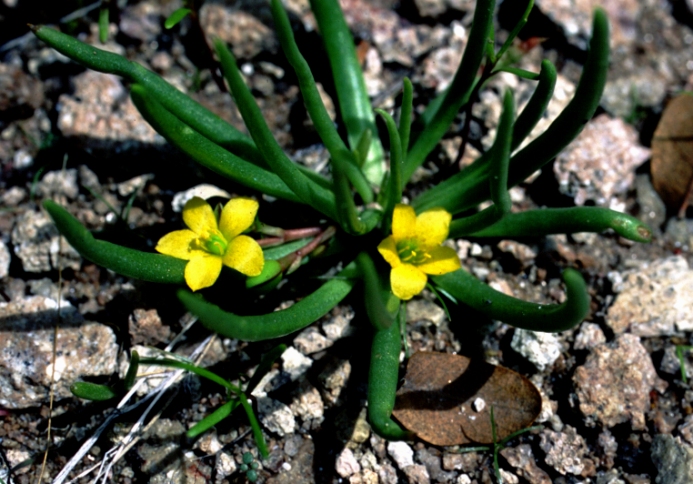 ---
Family: Portulacaceae
Scientific Name: Phemeranthus humilis (Greene) Kiger
Synonyms: Talinum humile Greene
Vernacular Name: Pinos Altos fame flower
R-E-D Code: 1-2-1
Description: Succulent perennial herb; taproot tuberous, roughly globose to broadly napiform, up to 5 cm in diameter (usually less); stems short, usually not extending above the ground surface, terminated by a leafy rosette 5-15 cm in diameter; leaves terete, 3-10 cm long, 3-5 mm thick, light glaucous-green to yellowish green; inflorescence an indeterminate cyme with slender peduncles, procumbent to ascending, usually exceeding leaves by less than 1/2 of total inflorescence length; flowers perfect, roughly 1 cm in diameter; sepals 2, foliaceous, deciduous in fruit; petals 5, yellow; stamens 10 (5-15); fruit three-valved, acute, greenish, often with reddish to purplish lines along margins of valves, disintegrating by dehiscence at maturity; seeds black, about 0.8 mm in diameter, nearly discoid, often slightly concave on one or both sides, with concentric raised ridges, covered by thin translucent aril (pellicle) which gives a grayish or slightly bluish appearance and conforms to the underlying concentric ridges. Flowers July to September.
Similar Species: No other species of the genus Phemeranthus (i.e. the terete-leaved fame flowers) known from New Mexico has yellow flowers, nor does any form a nearly acaulescent leaf rosette from a nearly globose root-tuber. Talinum parvulum (= Phemeranthus marginatus), not known from New Mexico, differs in the smaller proportions of all parts, and in having leaves basally stipitate. Talinum greenmannii occurs no closer than central Chihuahua and differs in smaller size, often lobed leaves, inflorescence rarely exceeding 1.5 cm, flowers usually with 5 stamens, fruit nearly globose, and seeds with pellicle nearly smooth and hiding ridges on seed.
---
Distribution: New Mexico, Grant and Hidalgo counties; Arizona, Cochise County; Mexico, western Chihuahua and northeastern Sonora.
Habitat: Shallow, gravelly, usually clayey soils overlying rhyolite, usually on rock benches in sloping terrain, but also in soil pockets overlying rock in nearly level areas; Madrean grassland, oak woodland, or piñon-juniper woodland, often with Nolina microcarpa and Agave parryii.
Remarks: This species is sporadically distributed within its range. Additional field work is needed to determine its abundance and distribution. Often only a few individuals of Phemeranthus humilis are found at a given sight, and it is unclear if this reflects the true population or is only due to timing. Plants grow actively only after rains during warm weather, and usually for short periods. Talinum greenmanii is often considered a synonym of P. humilis, but is a distinct species of entirely Mexican distribution. A line drawing often used to represent P. humilis is from the type description of T. greenmannii (Harshberger 1897).
Conservation Considerations: This plant occurs primarily in inaccessible areas where grazing is the only threat. Heavy grazing seems to reduce populations. However, in at least two locations, once grazing pressure dropped, the populations exploded in numbers for several years until other vegetation again became competitive. In Arizona, and perhaps in New Mexico, housing may be a future threat because some populations are close to areas being developed.
Important Literature (*Illustration):
Greene, E.L. 1881. New plants of New Mexico and Arizona. Botanical Gazette 6:183-185.
Harshberger, J.W. 1897. An ecological study of the genus Talinum with a description of two species. Bulletin of the Torrey Botanical Club 24:178-188.
Kiger, R.W. 2001. New combinations in Phemeranthus Rafinesque (Portulacaceae). Novon: A Journal for Botanical Nomenclature from the Missouri Botanical Garden 11(3):319-321.
*New Mexico Native Plants Protection Advisory Committee. 1984. A handbook of rare and endemic plants of New Mexico. University of New Mexico Press, Albuquerque. (Illustration is of T. greenmannii, but will serve to help identify T. humile as well).
Neal, P.R. 1987. Status report on Talinum humile. For U.S. Fish and Wildlife Service, New Mexico Ecological Services Field Office, Albuquerque.
Information Compiled By: David J. Ferguson, 1999; last updated, 2002
Agency Status: