Philadelphus microphyllus var. argyrocalyx
(Silvercup philadelphus)
[taxon report]
[distribution map]
[all photos]
[line drawing]
---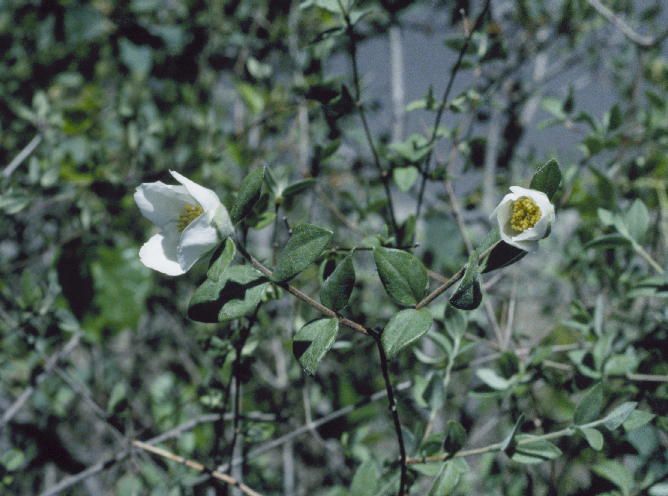 ---
Family: Hydrangeaceae
Scientific Name: Philadelphus microphyllus var. argyrocalyx (Wooton) Henrickson
Synonyms: Philadelphus argyrocalyx Wooton; Philadelphus serpyllifolius var. argyrocalyx (Wooton) M.E. Jones; Philadelphus ellipticus Rydberg; Philadelphus microphyllus subsp. argyrocalyx (Wooton) C.L. Hitchcock; Philadelphus wootonii Hu
Vernacular Name: Silvercup philadelphus
R-E-D Code: 1-1-3
Description: Erect shrub 1-2 m tall; leaves opposite, ovate, ovate-lanceolate or narrowly elliptic, margins entire, 10-35 mm long, 4-17 mm wide, glabrous or glabrescent above, sparsely villous hairy below, petiole about 2 mm long; flowers usually solitary (rarely 2 or 3) at the end of a short shoot 2-4 cm long with 2-4 pairs of leaves; calyx tube forming a cup (hypanthium); pedicels, hypanthia and sepals covered in dense tomentum of short, woolly hairs and longer, straight hairs; sepals 4; petals 4, white, 1.2-2.2 cm long, 0.7-1.8 cm wide; corolla cruciform, 2.2-4.2 cm across; stamens about 55, filaments fused into bundles; style and hypanthium disk glabrous; each seed long-tailed. Flowers June to August.
Similar Species: The hypanthium and sepals of Philadelphus microphyllus var. microphyllus are glabrous or only sparsely hairy at the base.
---
Distribution: New Mexico, southern Lincoln and northern Otero counties, Capitan, Sacramento, and White mountains.
Habitat: Mountain slopes of usually sedimentary rock in piñon-juniper woodland and lower montane coniferous forest; 2,100-2,600 m (6,900-8,500 ft).
Remarks: Endemic to the mountains of south-central New Mexico, but relatively common within this limited range. It is a handsome shrub with potential for ornamental use.
Conservation Considerations: This plant is not significantly threatened by the land uses within its habitats. Its response to forest fire has not been studied.
Important Literature (*Illustration):
Hu, S. 1954. A monograph of the genus Philadelphus. Journal of the Arnold Arboretum 37:15-90.
Frazier, C.K. 1999. A taxonomic study of Philadelphus (Hydrangeaceae) as it occurs in New Mexico. The New Mexico Botanist 13:1-6.
Henrickson, J. 2007. New combinations in Philadelphus (Philadelphaceae). Journal of the Botanical Research Institute of Texas 1(2):901.
Information Compiled By: Robert Sivinski, 1999; last updated 2008
Agency Status: