Phlox cluteana
(Navajo Mountain phlox)
[taxon report]
[distribution map]
[all photos]
[line drawing]
---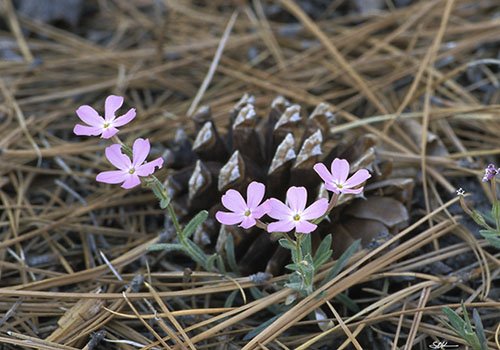 ---
Family: Polemoniaceae
Scientific Name: Phlox cluteana A. Nelson
Synonyms: None
Vernacular Name: Navajo Mountain phlox
R-E-D Code: 1-1-2
Description: Perennial with slender, creeping rhizomes; stems mostly 8-10 cm long, sparsely to densely glandular pubescent; leaves evergreen, 1-4 cm long, entire, linear to narrowly lanceolate or elliptic, glabrous to ciliate or sometimes pubescent like the stems; inflorescence of short, terminal cymes; pedicels 3-15 mm long; flowers large and showy, light pink to purple; calyx 6-8 mm long; corolla tube 8-18 mm long, the lobes 8-10 mm long and nearly as wide, rounded at the apex; stamens included or slightly exserted. Flowers June to July.
Similar Species: Phlox amabilis and P. longifolia have taproots and usually deciduous leaves, whereas P. cluteana has a slender rhizomatous rootstock and evergreen leaves.
---
Distribution: New Mexico, San Juan County, Chuska Mountains; adjacent northeastern Arizona; Utah, San Juan County, Navajo Mountain.
Habitat: Light to heavy shade on sandy soils in ponderosa pine forest; 1,800-3,000 m (6,000-10,000 ft).
Remarks: Phlox cluteana can be locally abundant within its limited range.
Conservation Considerations: The effects of logging and forest fire on Phlox cluteana have not been evaluated.
Important Literature (*Illustration):
Kearney, R.H. and T.H. Peebles. 1960. Arizona flora (with supplement). University of California Press, Berkeley.
McDougall, W.B. 1973. Seed plants of northern Arizona. The Museum of Northern Arizona, Flagstaff.
Phillips A.M., B.G. Phillips and N. Brian. 1982. Status report: Phlox cluteana. Unpublished report to the U.S. Fish and Wildlife Service, New Mexico Ecological Services Field Office, Albuquerque.
Information Compiled By: Daniela Roth, 1999
Agency Status: