Ribes mescalerium
(Mescalero black currant)
[taxon report]
[distribution map]
[all photos]
[line drawing]
---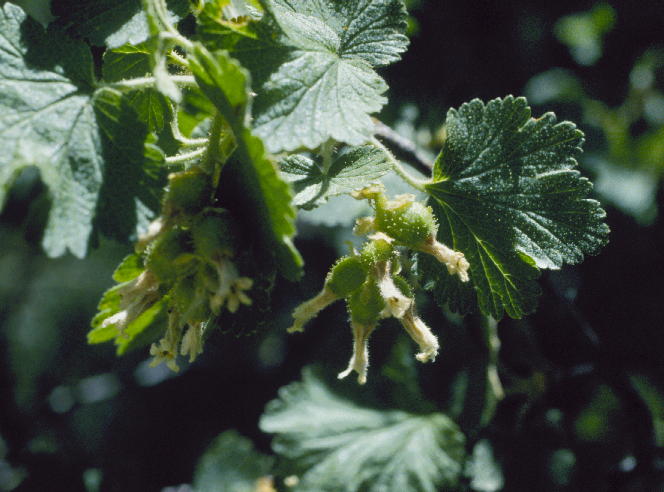 ---
Family: Grossulariaceae
Scientific Name: Ribes mescalerium Coville
Synonyms: None
Vernacular Name: Mescalero black currant
R-E-D Code: 1-1-2
Description: Erect shrub to 2.0 m tall; stems erect or ascending, unarmed, the twigs glandular-pubescent; leaves reniform to orbicular, shallowly 3- to 5-lobed, margins crenate-dentate, base cordate to cuneate, both surfaces glandular-pubescent; hypanthium about 2 times or less as long as wide, 3.0-4.0 mm long, greenish-white, anthers with a conspicuous cup-shaped apical gland; berries black, globose and glandular-pubescent. Flowers May to August.
Similar Species: Ribes cereum has reddish, glabrous berries. Its hypanthia are usually 3 times longer than wide.
---
Distribution: New Mexico, Lincoln and Otero counties, Sacramento and Guadalupe mountains; adjacent Texas, Culberson County.
Habitat: Dry slopes in open montane coniferous forests; 2,100-2,700 m (7,000-9,000 ft).
Remarks: Populations are widely scattered in the mountains of south-central New Mexico and adjacent Texas.
Conservation Considerations: Field work is needed to determine the distribution and abundance of this plant. The effects of logging and forest fires on this species have not been studied.
Important Literature (*Illustration):
Carter, J.L. 1997. Trees and shrubs of New Mexico. Johnson Books, Boulder, Colorado.
Correll, D.S. and M.C. Johnston. 1970. Manual of the vascular plants of Texas. Texas Research Foundation, Renner, Texas.
*Vines, R.A. 1960. Trees, shrubs and woody vines of the Southwest. University of Texas Press, Austin.
Powell, A.M. 1988. Trees and shrubs of Trans-Pecos Texas. Big Bend Natural History Association, Alpine, Texas.
Information Compiled By: Jack Carter, 1999
Agency Status: