Leucosyris blepharophylla
(La Playa Springs spine-aster)
[taxon report]
[distribution map]
[all photos]
[line drawing]
---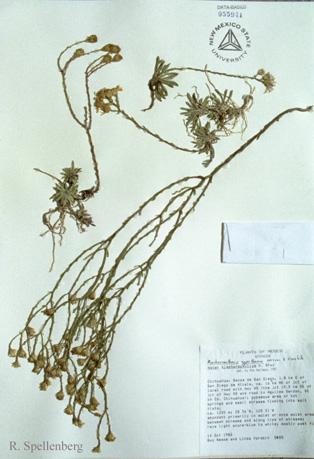 ---
Family: Asteraceae
Scientific Name: Leucosyris blepharophylla (A. Gray) Pruski & R.L. Hartm., comb. nov.
Synonyms: Aster blepharophyllus A. Gray; Machaeranthera gypsitherma G.L. Nesom, Vorobik & R.L. Hartman; Arida blepharophylla (A. Gray) D.R. Morgan & R.L.
Vernacular Name: La Playa Springs spine-aster
R-E-D Code: 3-2-2
Description: Perennial herb from shallow slender rhizomes; stems from dense basal rosettes, erect, 4-35 cm tall, green or purplish, glabrous, unbranched on the lower 1/2; basal leaves thick, entire, linear-oblanceolate, sessile, 8-30 mm long, glabrous except on the margins, margins ciliate with thick, white trichomes; stem leaves much smaller than the basal, appressed to the stem; flower heads on bracteate peduncles, solitary on the stem branches or in tight clusters of 2-5; involucre 5-8 mm wide; phyllaries in 4-6 overlapping series, each oblong, acute at the apex, with a black or brown midrib; ray flowers 8-12, blue-lavender; disk flowers numerous, yellow, sometimes purple tinged; pappus of long bristles, achenes silvery-hairy. Flowers August to October.
Similar Species: Arida riparia lacks basal rosettes of leaves and has more than 15 ray flowers in each head. Arida carnosa lacks ray flowers and also lacks basal rosettes of leaves.
---
Distribution: New Mexico, Hidalgo County; Texas, Presidio County; Mexico, Chihuahua.
Habitat: Riparian - alkaline soils around springs and seeps in Chihuahuan desert scrub; 1,200-1,400 m (3,900-4,600 ft).
Remarks: This species was collected once in New Mexico by Charles Wright during the 1851 U.S./Mexico boundary survey. It has not been seen in New Mexico since that time and probably has been extirpated from the state. The two springs in the Playas Valley that may have been the type locality have been captured for livestock water, and most riparian vegetation there has been eliminated. The only known extant populations of this plant are at gypsum hotsprings (Baños de San Diego) near Ciudad Chihuahua (Nesom et al. 1990) and two closely located recently discovered populations in Presidio County, Texas (Poole et al. 2007).
Conservation Considerations: Alkaline springs in southern New Mexico and northern Chihuahua should be searched in an attempt to find additional extant populations. The springs in the Playas Valley are too modified to support a reintroduction of this species.
Important Literature (*Illustration):
*Nesom, G.L., L.A. Vorobik and R.L. Hartman. 1990. The identity of Aster blepharophyllus (Asteraceae: Astereae). Systematic Botany 15(4):638-642.
Morgan, D.R. and R.L. Hartman. 2003. A synopsis of Machaeranthera (Asteraceae: Astereae), with recognition of segregate genera. Sida 20(4):1387-1416.
Poole, J.M., W.R. Carr, D.M. Price and J.R. Singhurst. 2007. Rare plants of Texas: A field guide. W.L. Moody Jr. Natural History Series, number 37. Texas A&M University Press, College Station. 656 pp.
Pruski. J.F. and R.L. Hartman. 2012. Synopsis of Leucosyris, including synonymous Arida (Compositae: Astereae). Phytoneuron 2012-98: 1–15. Published 12 November 2012.
Information Compiled By: Robert Sivinski, 1999; last updated 2014
Agency Status: