Sclerocactus cloverae ssp. brackii
(Brack hardwall cactus)
[taxon report]
[distribution map]
[all photos]
[line drawing]
---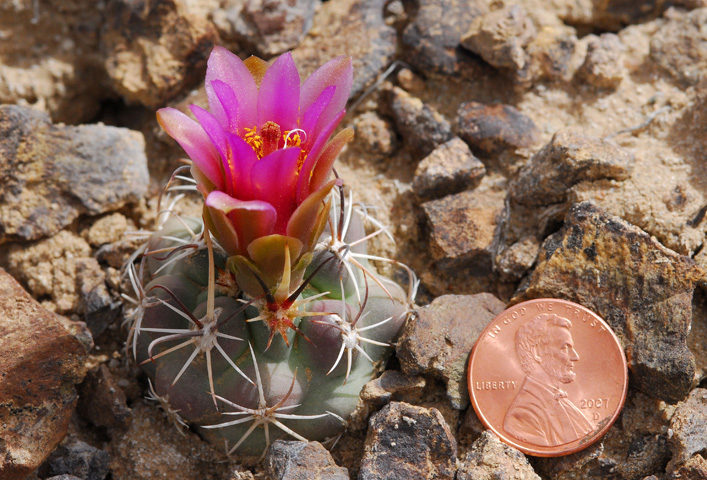 ---
Family: Cactaceae
Scientific Name: Sclerocactus cloverae Heil & Porter ssp. brackii Heil & Porter
Synonyms: None
Vernacular Name: Brack hardwall cactus
R-E-D Code: 2-1-3
Description: Stems 1, or rarely 2-3, elongate cylindrical, ovoid when young, 3-8 cm long, 2-7 cm in diameter; ribs usually 13; tubercles protruding above the ribs, 5-14 mm long; central spines usually 4-5, straw-colored to brown, lower one hooked and about 3 cm long, lateral centrals straight and slightly shorter; radial spines usually 6-7, about 1.0-1.5 mm broad at the base, elliptic or rhombic in cross-section; flowers 2.5-3.5 cm long, 1.5-3.0 cm in diameter, exterior floral tube glabrous; tepals purple, outer ones usually with a brownish midrib; styles tinged with pink or purple, rarely green, covered with minute but conspicuous hairs; fruit green to tan, sometimes suffused with pink, 1-5 mm long and 5-12 mm broad, irregularly opening just below the middle or at the base; seeds 2-3 mm long, 1.2-2.0 mm broad, hilum not deeply indented. Flowers in May.
Similar Species: Differs from Sclerocactus cloverae ssp. cloverae only in that the reduced spination of juveniles lasts for several years and persists on plants of early reproductive maturity to as large as 10 cm tall and 10 cm across. If plants survive to such a size, they all produce typical adult spination eventually and become indistinguishable from adults of typical S. cloverae.
---
Distribution: New Mexico, San Juan, Sandoval, and Rio Arriba counties.
Habitat: Sandy clay strata of the Nacimiento Formation in sparse shadscale scrub; 1,500-1,950 m (5,000-6,400 ft).
Remarks: In Flora of North America, Volume 4 (2003), Sclerocactus cloverae ssp. brackii is included in synonymy under Sclerocactus cloverae with a discussion at the end of the species' account stating, "Populations with all reproductive individuals maintaining juvenile morphology have been segregated as S. cloverae subsp. brackii K.D. Heil & J.M. Porter." Discussions with Ken Heil, author of both the FNA treatment and Heil and Porter (1994), indicate that he believes Sclerocactus cloverae ssp. brackii should be recognized as a distinct entity. This subspecies has been known since about 1982 as Sclerocactus gradyi, but that name was never validly published.
Conservation Considerations: The habitat occurs within a region of intensive energy development and off-road vehicle use. Transplanting does not appear to be a successful mitigation measure.
Important Literature (*Illustration):
*Heil, K.D. and J.M. Porter. 1994. Sclerocactus (Cactaceae) a revision. Haseltonia 2:20-46.
Flora of North America Editorial Committee. 2003. Flora of North America, volume 4. Oxford University Press, New York.
Muldavin, E., R. Sivinski, M. East, Y. Chauvin, and Mark Horner. 2016. Brack's hardwall cactus distribution, habitat, and status survey 2015. Unpublished report prepared for the BLM State Office, Santa Fe, NM by Natural Heritage New Mexico, Museum of Southwestern Biology and Department of Biology, University of New Mexico, Albuquerque, NM. 61 pp.
Information Compiled By: David J. Ferguson, 1998; last updated 2016
Agency Status: