Sclerocactus mesae-verdae
(Mesa Verde cactus)
[taxon report]
[distribution map]
[all photos]
[line drawing]
---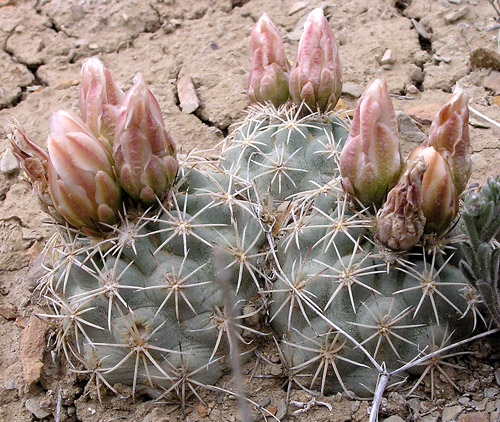 ---
Family: Cactaceae
Scientific Name: Sclerocactus mesae-verdae (Boissevain ex Hill & Salisbury) L. Benson
Synonyms: Coloradoa mesae-verdae Boissevain
Vernacular Name: Mesa Verde cactus
R-E-D Code: 2-2-2
Description: Stems usually solitary, depressed-globose to ovoid, 3.2-11.0 cm long, 3.8-8.0 cm in diameter; ribs 13-17; tubercles inconspicuous; areoles woolly; central spines absent or rarely 1, radial spines 7-13, straw-colored, spreading, 6-13 mm long; flowers yellowish-cream to pinkish, 1-3 cm wide, 1-3.5 cm long; fruit green, becoming tan at maturity, short cylindroid, 8-10 mm long, indehiscent; seeds black, 2.5-3 mm long, 3-4 mm wide. Flowers late April to May.
Similar Species: Sclerocactus parviflorus ssp. intermedius (eagle-claw cactus) can grow in the same habitat, but has strongly hooked central spines and pinkish-purple flowers.
---
Distribution: New Mexico, San Juan County; Colorado, Montezuma County.
Habitat: Sparsely vegetated low rolling clay hills formed from the Mancos or Fruitland shale formations at 1,500-1,700 m (4,900-5,500 ft). The soils are highly alkaline, gypsiferous, and have shrink-swell potentials that make them harsh sites for plant growth. Commonly associated plants include Atriplex corrugata (mat saltbush), A. confertifolia (shadscale), Frankenia jamesii (frankenia), and Opuntia polyacantha (prickly pear cactus).
Remarks: Plants withdraw into the soil during dry periods; small plants may be completely hidden.
Conservation Considerations: The growth of Shiprock, New Mexico, has affected plants in the vicinity of the town. The open clay badlands where this plant occurs are attractive for off-road vehicle use. Oil and gas development and pipeline and powerline construction occur throughout the range of this species. This plant is very difficult to keep alive under cultivation because of its specialized soil requirements, so there are few commercial sources of plants. As a result, signs of limited collecting are periodically seen at the best known localities.
Important Literature (*Illustration):
*New Mexico Native Plants Protection Advisory Committee. 1984. A handbook of rare and endemic plants of New Mexico. University of New Mexico Press, Albuquerque.
*Heil, K.D. and J.M. Porter. 1994. Sclerocactus (Cactaceae): A revision. Haseltonia 2:20-46.
*U.S. Fish and Wildlife Service. 1984. Mesa Verde cactus (Sclerocactus mesae-verdae) recovery plan. U.S. Fish and Wildlife Service, New Mexico Ecological Services Field Office, Albuquerque, New Mexico.
Information Compiled By: Charlie McDonald, 1999
Agency Status: