Scrophularia laevis
(Smooth figwort)
[taxon report]
[distribution map]
[all photos]
[line drawing]
---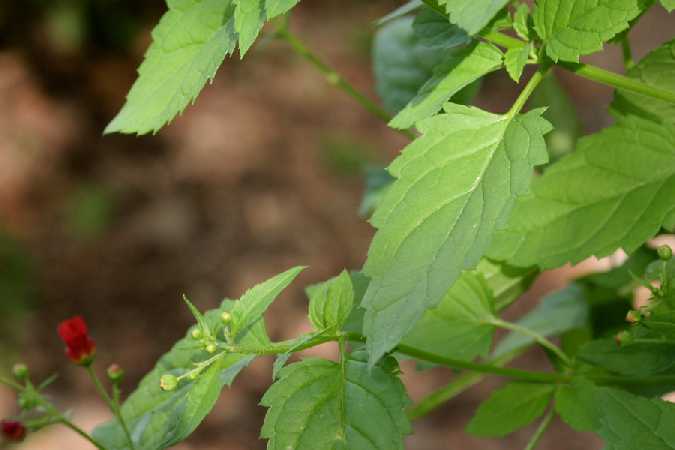 ---
Family: Scrophulariaceae
Scientific Name: Scrophularia laevis Wooton & Standley
Synonyms: None
Vernacular Name: Smooth figwort
R-E-D Code: 2-1-3
Description: Herbaceous perennial; stems mostly single and unbranched, glabrous, slender, 4-10(12) dm tall; leaves opposite, lanceolate to ovate, acute, obtuse to cordate at base, coarsely and unevenly laciniate-serrate, thin, glabrous except sparsely glandular pubescent along main veins, blades to 5-7 cm long, 2-3.5 cm wide, petiole about 1/2 length of leaf blade; inflorescence a loose, few-branched, terminal panicle; peduncles and pedicels glandular pubescent; flowers not showy, short-tubular, bilabiate, dull red to greenish-brown, 7-12 mm long; fertile stamens 4, fifth stamen represented by a small orbicular scale on the lower corolla lip; stigma capitate; fruit a somewhat woody, narrowly ovoid, septicidal capsule, 8-11 mm long; seeds numerous, small, rugose. Flowers July and August.
Similar Species: Scrophularia laevis can be distinguished from the other New Mexico species of Scrophularia by its smaller stature, glabrous leaves and stems, long petioles, and orbicular staminodia.
---
Distribution: New Mexico, Dona Ana County, Organ Mountains.
Habitat: Moist canyons on quartz monzonite substrate in piñon-juniper woodland and Rocky Mountain montane coniferous forest; 2,100-2,600 m (6,900-8,500 ft).
Remarks: Possibly obligate on quartz monzonite substrate.
Conservation Considerations: The steep, rocky terrain of this species' habitat provides a great amount of protection from most land uses. The effects of forest fire on this plant have not been studied.
Important Literature (*Illustration):
*New Mexico Native Plants Protection Advisory Committee. 1984. A handbook of rare and endemic plants of New Mexico. University of New Mexico Press, Albuquerque.
Todsen, T.K. 1978. Scrophularia laevis (Scrophulariaceae), a legitimate species. Madroño 25:106-107.
Wooton, E.O. and P.C. Standley. 1913. Descriptions of new plants preliminary to a report upon the flora of New Mexico. Contributions from the U.S. National Herbarium 16:109-196.
Information Compiled By: Denis M. Kearns, 1999
Agency Status: