Selaginella weatherbiana (Not NMRPTC Rare)
(Weatherby's spike moss)
[taxon report]
[distribution map]
[all photos]
[line drawing]
---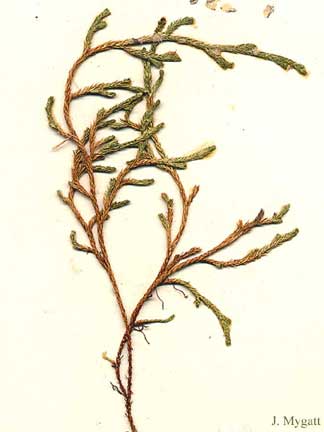 ---
Family: Selaginellaceae
Scientific Name: Selaginella weatherbiana R.M. Tyron
Synonyms: Bryodesma weatherbiana (R.M. Tryon) Sojak
Vernacular Name: Weatherby's spike moss
R-E-D Code: 1-1-2
Description: Perennial; forming loose mats; main stems aerial, 5-15 cm, spreading, without roots except at the base; rhizomes present; leaves long-decurrent, narrowly elliptic-lanceolate, about 2 mm long, 0.5 mm wide, with marginal cilia and bristle tips; spikes sharply oblong, 5-15 mm long and 0.5 mm wide, sporangia in axils of spike leaves.
Similar Species: Other sympatric spike mosses either lack bristle tips on the leaves or have creeping main stems that are rooted to the ground.
---
Distribution: New Mexico, Colfax, San Miguel, Santa Fe, and Taos counties; adjacent Colorado.
Habitat: Exposed or shaded granitic rock outcrops, ledges, cliffs or in rock crevices; 1,600-3,000 m (5,200-9,900 ft).
Remarks: In addition to the 4 counties in New Mexico, Selaginella weatherbiana is documented from 11 counties in Colorado from about 25 different localities. The Colorado Natural Heritage Program ranks S. weatherbiana as S3S4 for Colorado with the comment that it, "appears to be fairly common within its known range although few EORs appear in CNHP files. Occurs in habitat that is generally inaccessible." The total range for S. weatherbiana is about 280 miles. The range and abundance of this species are too great to qualify as rare under NMRPTC criteria.
Conservation Considerations: Listed as "of conservation concern" in Flora of North America, probably because of its limited range. Additional field work is needed to determine the distribution and abundance of this rare plant.
Important Literature (*Illustration):
*Lellinger D.B. 1985. A field manual of ferns and fern-allies of the United States and Canada. Smithsonian Institution Press, Washington D.C.
Sojak, J. 1992. Generische problematik der Selaginellaceae. Preslia, Praha 64:151-158.
*Tyron, R.M. 1950. A new species of the Selaginella rupestris group. American Fern Journal 40:69.
Valdespino, I.A. 1993. Selaginellaceae. Pp. 38-63. In: Flora of North America, volume 2. Oxford University Press, New York, New York.
Information Compiled By: Juanita A.R. Ladyman, 1999; last updated 2006