Senecio sacramentanus
(Sacramento groundsel)
[taxon report]
[distribution map]
[all photos]
[line drawing]
---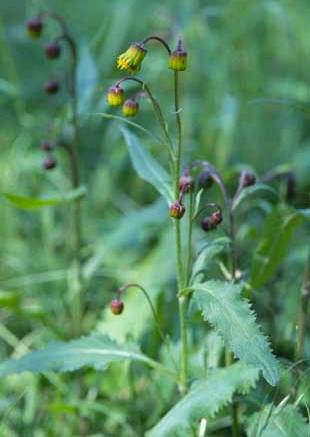 ---
Family: Asteraceae
Scientific Name: Senecio sacramentanus Wooton & Standley
Synonyms: None
Vernacular Name: Sacramento groundsel
R-E-D Code: 1-1-3
Description: Perennial herb; stem up to 7 dm tall, leafy throughout, but the leaves progressively reduced upwards; leaves bright green, thin, lanceolate to narrowly triangular, up to 14 cm long and 5 cm wide, those at the base with petioles up to 7 cm long, the stem leaves sometimes without petioles often clasping the stem, abruptly sharp pointed at the tip, margins coarsely toothed, upper surface glabrous, lower surface sparsely pubescent; flower heads about 10 mm high and nearly as wide, nodding; phyllaries narrow, in one series; ray flowers absent; disk flowers yellow, numerous; pappus of numerous capillary bristles. Flowers July to September.
Similar Species: Senecio bigelovii is widespread in New Mexico. It is more robust than S. sacramentanus and has flower heads that are usually more than 1 cm wide.
---
Distribution: New Mexico, Lincoln and Otero counties, Sacramento-White mountains.
Habitat: Meadows and aspen glades in lower and upper montane coniferous forest; 2,440-3,350 m (8,000-11,000 ft).
Remarks: This species is distinguished from Senecio bigelovii by relative thickness of flower heads and stems. Intermediate and undeterminable populations in the Mogollon, Manzano, and Sandia mountains have led to some specimens from there being identified as S. sacramentanus. The taxonomic circumscriptions of these two species needs clarification. The questionable taxonomic status of S. sacramentanus has made it a low priority for conservation concerns.
Conservation Considerations: Distribution, frequency, and population sizes of this species have not been assessed. Its response to livestock grazing, logging, and forest fire have not been studied.
Important Literature (*Illustration):
*New Mexico Native Plants Protection Advisory Committee. 1984. A handbook of rare and endemic plants of New Mexico. University of New Mexico Press, Albuquerque.
Barkley, T.M. 1978. Senecio. In: North American flora, series 2. 10:50-139.
Information Compiled By: Robert Sivinski, 1999
Agency Status: