Sibara grisea
(Gray sibara)
[taxon report]
[distribution map]
[all photos]
[line drawing]
---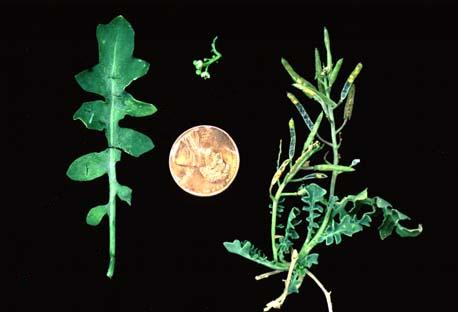 ---
Family: Brassicaceae
Scientific Name: Sibara grisea Rollins
Synonyms: None
Vernacular Name: Gray sibara
R-E-D Code: 1-1-2
Description: Annual, grayish green branching herb, up to 30 cm tall; herbage glabrous throughout and slightly fleshy; leaves 3-7 cm long, 1.5-3.0 cm wide, deeply dissected into lobes; flowers minute; sepals 2 mm long or less; petals 4, white, 3.5 mm long; fruit a long narrow silique 1.5-2.0 mm wide, 2-3 cm long; seeds small, yellow, and narrowly winged. Flowers May and June.
Similar Species: The nearest relative to Sibara grisea is S. runcinata, which does not occur in New Mexico.
---
Distribution: New Mexico, Chaves, Eddy, and Otero counties; adjacent Texas.
Habitat: In crevices and at the bases of limestone cliffs in interior chaparral and piñon-juniper woodland communities at 1,350-1,800 m (4,500-6,000 ft).
Remarks: It is difficult to know the abundance of this species since it is an annual and grows in extremely remote areas that are very difficult to access. Dropped in 2013. Synonym of the more widespread Thelypodium texanum. Plants disjunct in NM were misidentified by R.C. Rollins (1993) as Sibara grisea. Ref: Ihsan Al-Shebaz, Flora of North America, Vol.7.
Conservation Considerations: Prevailing land uses of livestock grazing and energy development do not threaten this species.
Important Literature (*Illustration):
*New Mexico Native Plants Protection Advisory Committee. 1984. A handbook of rare and endemic plants of New Mexico. University of New Mexico Press, Albuquerque.
Information Compiled By: Ken Heil and Joey Herring, 1999
Agency Status: