Sphaeralcea wrightii
(Wright's globe mallow)
[taxon report]
[distribution map]
[all photos]
[line drawing]
---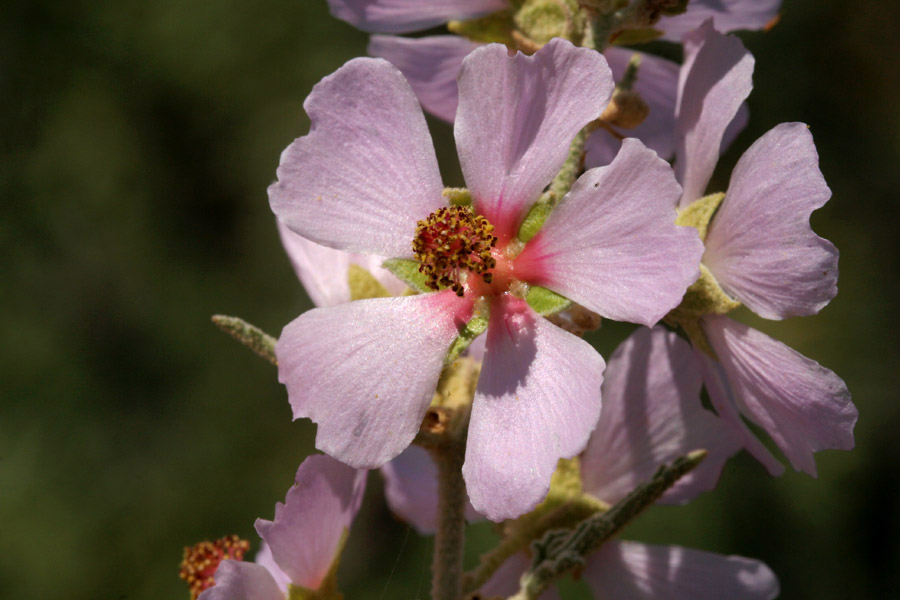 ---
Family: Malvaceae
Scientific Name: Sphaeralcea wrightii A.Gray
Synonyms: None
Vernacular Name: Wright's globe mallow
R-E-D Code: 2-1-1
Description: Perennial herb; stems few, usually less than 1 m tall; branches ascending and mostly originating near the base; herbage grayish-canescent or subtomentose with soft stellate hairs; leaves 2-4 cm long, broadly ovate in outline, irregularly crenate to dentate and deeply lobed, with mostly three lobes, central lobe longer than the lateral two, base truncate to cordate; inflorescence a narrow, leafy thyrse; calyx segments 6-7 mm long at anthesis, densely pubescent; petals 5, whitish to lavender-pink or red-orange, 10-18 mm long; Stamens numerous, filaments united at the base; fruit a schizocarp of 12-15 pie-shaped segments (carpels) that are net-like reticulate on the lower side walls. Flowers in April and possibly again in late summer.
Similar Species: Sphaeralcea laxa is sympatric and distinguished by its open, paniculate inflorescence, longer calyx (7-11 mm long at anthesis), and shorter pubescence. The leaf and inflorescence shapes of S. laxa are variable and can be difficult to distinguish from S. wrightii, which may indicate hybridization. Both Gray and Kearney had trouble distinguishing El Paso, Texas, and Fort Grant, Arizona, collections and doubtfully assigned them to S. wrightii on the basis of longer pubescence and short inflorescence.
---
Distribution: New Mexico, Luna County; Arizona, Graham and Cochise counties; Texas, El Paso County; Mexico, Chihuahua.
Habitat: Rocky slopes in Chihuahuan Desert scrub and grassland; 1,100-1,500 m (4,000-6,000 ft).
Remarks: Populations of this species are relatively widespread, but are sporadically distributed and rarely vouchered as herbarium specimens.
Conservation Considerations: Field surveys for this species are needed to determine its ecological amplitude, population sizes, and potential threats to occupied habitats. Additional specimens of Sphaeralcea wrightii and systematic studies are needed to further clarify its relationship to S. laxa.
Important Literature (*Illustration):
Gray, A. 1853. Plantae Wrightianae 2:21.
*New Mexico Native Plants Protection Advisory Committee. 1984. A handbook of rare and endemic plants of New Mexico. University of New Mexico Press, Albuquerque.
*Kearney, T.H. 1942. The North American species of Sphaeralcea subgenus Eusphaeralcea. University of California Publications in Botany 19:1-127.
Information Compiled By: David J. Ferguson, 1998; revised, 2001
Agency Status: