Townsendia gypsophila
(Gypsum Townsend's aster)
[taxon report]
[distribution map]
[all photos]
[line drawing]
---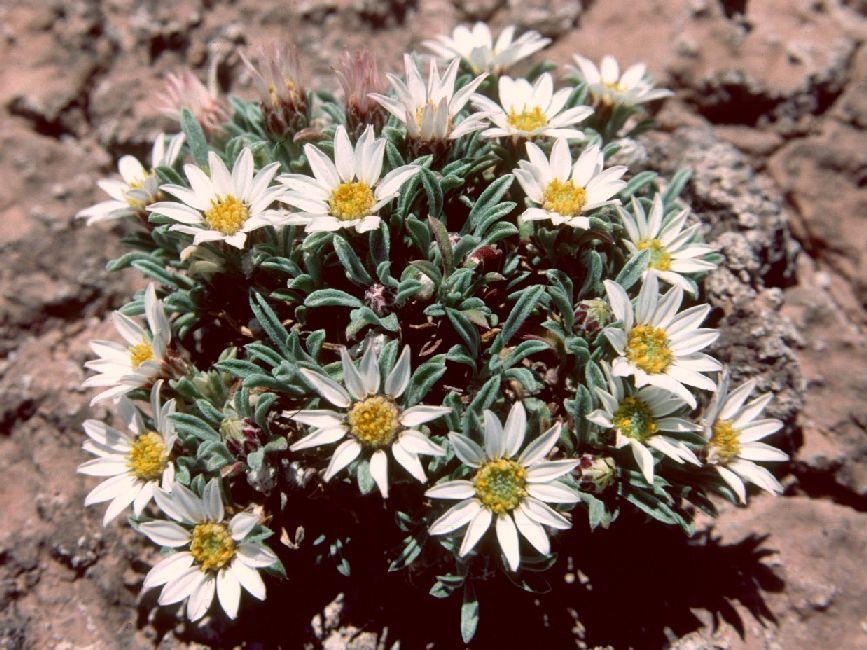 ---
Family: Asteraceae
Scientific Name: Townsendia gypsophila Lowrey & P. Knight
Synonyms: None
Vernacular Name: Gypsum Townsend's aster
R-E-D Code: 2-2-3.
Description: Caespitose or pulvinate, taprooted perennial, 2-10 cm tall; stems intricately branched; leaves narrowly oblanceolate, 8-20 mm long, 1-3 mm wide, strigose-canescent to canescent basally, moderately succulent; heads terminal; peduncles 3-8 mm long, densely canescent; involucre turbinate or campanulate; receptacle setose; phyllaries in 3-4 series, 2-4 mm long, 1-1.5 mm wide, lanceolate, broadly scarious-margined, the margins prominently ciliate; ray florets 7-15, 4.0-7.5 mm long, corollas white or tinged with pink adaxially, lamina 3-5.5 mm long; disk corollas yellow or tinged with pink; achenes oblanceolate, compressed, densely pubescent with glochidiate hairs in ray achenes; pappus heteromorphic, that of the ray floret absent or coroniform of minute squamellae less than 0.3 mm long; disk floret pappus of white barbellate bristles, 2.3-3.2 mm long, equaling the disk corollas. Flowers April to October.
Similar Species: Townsendia fendleri of southern Colorado and northern New Mexico has a decumbent or erect growth habit, disk pappus shorter than the length of the disk corolla, and linear, non-succulent, and at most, moderately strigose leaves. Townsendia incana, which ranges from Wyoming south through Utah and Colorado to Arizona and New Mexico, has ray florets, 7-13 mm long and a ray pappus of setose bristles 0.3-6.3 mm long. Additionally, T. incana occurs usually in sandy soils.
---
Distribution: New Mexico, Sandoval County (extending 30 km north from White Mesa near San Ysidro in a narrow band along the western margin of the Nacimiento Mountains stopping short of Cuba).
Habitat: Weathered gypsum outcrops of the Jurassic-age Todilto and overlying Morrison formations. The largest populations occur on highly gypsiferous soils rather than pure gypsum. Smaller populations grow on Todilto gypsite, a highly pure, crustose form of gypsum.
Remarks: A very narrowly distributed endemic that is moderately abundant to scattered on gypsum or highly gypseous soils. It shares the gypsum habitats with two recently described gypsophilic species, Phacelia sivinskii and Mentzelia todiltoensis. It has never been observed on a non-gypseous substrate, hence the choice of the specific epithet.
Conservation Considerations: The White Mesa gypsum beds are being actively strip-mined for the manufacture of wallboard. Populations on mineable gypsum are endangered. Populations along the White Mesa Bike Trail are threatened by recreational biking.
Important Literature (*Illustration):
*Lowrey, T.K. and P.J. Knight. 1994. Townsendia gypsophila (Compositae: Astereae): a new species from northern New Mexico. Brittonia 46:194-199.
Roth, D. 2016. Status Survey for Gypsum Townsend's Aster (Townsendia gypsophila), Sivinski's Scorpionweed (Phacelia sivinskii), Todilto Stickleaf (Mentzelia todiltoensis), and Tufted Sand Verbena (Abronia bigelovii) on Zia Pueblo Lands in Sandoval County, New Mexico. Unpublished report prepared by EMNRD-Forestry Division, Santa Fe, NM for the U.S. Fish & Wildlife Service, Region 2, Albuquerque, NM. 29 pp.
Roth, D., and R. Sivinski. 2015. Survey and status report for rare gypsophilic plants in the Ojito/White Mesa area of Sandoval County, New Mexico. Unpublished report prepared by the NM Energy, Minerals, and Natural Resources Department, Forestry Division, for the BLM Rio Puerco Field Office, Albuquerque, NM.
Information Compiled By: Timothy K. Lowrey, 1999, last updated 2016
Agency Status: