Trifolium brandegeei (Not NMRPTC Rare)
(Brandegee alpine clover)
[taxon report]
[distribution map]
[all photos]
[line drawing]
---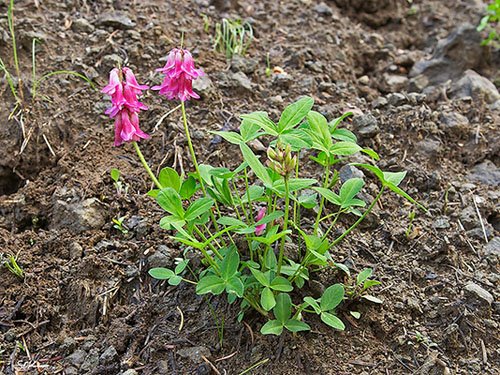 ---
Family: Fabaceae
Scientific Name: Trifolium brandegeei S. Watson
Synonyms: Trifolium kingii S. Watson var. brandegeei (S. Watson) McDermott
Vernacular Name: Brandegee alpine clover
R-E-D Code: 1-1-2
Description: Caespitose perennial; acaulescent; scapes and leaves mainly glabrous, 5-15 cm tall, arising from a branched rhizome covered at the base by persistent stipules; leaves clustered, leaflets 7-30 mm long, oval to elliptic-oblong, glabrous or glabrate, margins with very prominent nerves, sometimes terminating in shallow teeth; inflorescence exceeding the leaves; involucre absent or nearly so; heads 5 or more flowered; calyx 6-10 mm long, glabrous or with scattered long hairs, green to purple when dry, teeth acuminate and longer than the tube; corolla 13-20 mm long, purple, violet when dry; pods glabrous, 1-3(7)-seeded. Flowers July and August.
Similar Species: Trifolium dasyphyllum (alpine clover) can be distinguished by the presence of long (greater than 2 mm) involucral bracts.
---
Distribution: New Mexico, Taos County; adjacent southern Colorado.
Habitat: Alpine and subalpine slopes in open coniferous forests; 3,500-4,000 m (11,500-13,300 ft).
Remarks: Trifolium brandegeei occurs in the San Juan Mountains in Colorado and Sangre De Cristo Mountains in New Mexico. It is documented from eight counties in Colorado. The Natural Heritage Program ranks this species as globally secure (G5). The documented range is at least 150 miles. The range and abundance of this species are too great to qualify as rare under NMRPTC criteria.
Conservation Considerations: None
Important Literature (*Illustration):
Gillett, J.M. 1965. Taxonomy of Trifolium: Five American species of section Lupinaster (Leguminosae). Brittonia 17(2):121-136.
Zohary, M. and D. Heller. 1984. The Genus Trifolium. The Israel Academy of Sciences and Humanities, Jerusalem.
Information Compiled By: Juanita A.R. Ladyman, 1999; last updated 2006