Apacheria chiricahuensis (Not NMRPTC Rare)
(Cliff brittlebush)
[taxon report]
[distribution map]
[all photos]
[line drawing]
---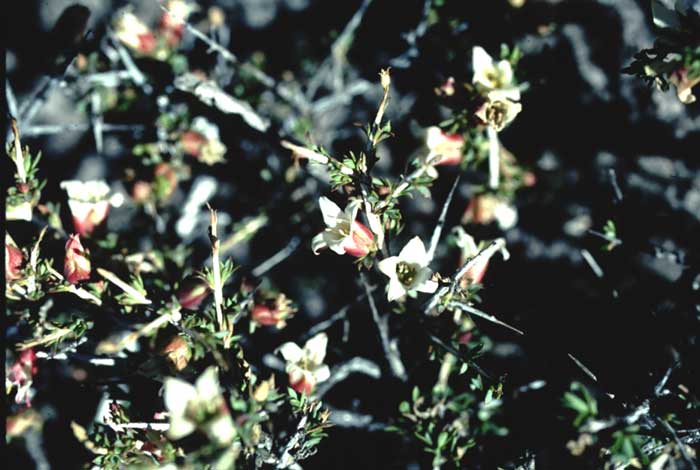 ---
Family: Crossosomataceae
Scientific Name: Apacheria chiricahuensis C.T. Mason
Synonyms: None
Vernacular Name: Cliff brittlebush
R-E-D Code: 2-1-2
Description: Shrub to 50 cm tall; leaves opposite, entire to 3-lobed, oblanceolate to spatulate, 3.5-7.5 mm long, 1.0-2.3 mm wide, apiculate, glabrous; stipules minute; flowers radially symmetric, borne singly, sessile or short pedunculate; sepals 4, 3.0-3.5 mm long; petals 4, white, cream-colored, or pink, 4-5 mm long; stamens 8; carpels 1-4; stigmas linear; fruits follicular with prominent striate veins; seeds 1-2, brown, averaging 1.5 mm long, 1 mm wide, with a white aril. Flowers April to August.
Similar Species: None
---
Distribution: New Mexico, Hidalgo, Sierra, and Socorro counties; Arizona, Cochise County.
Habitat: Mostly north-facing cliffs of limestone or rhyolite; 1,700-2,100 m (5,500-7,000 ft)
Remarks: This species occurs on both limestone and rhyolite in the Black Range, San Mateo, San Andres, and Animas mountains in New Mexico, and the Chiricahua and Dragoon mountains in Arizona. This is a range of about 180 miles. It is reported to be fairly common in suitable habitat in the San Mateo Mountains and Richard Worthington reported that it can be abundant in suitable habitat in the Animas Mountains. The species, therefore, does not meet our criteria for New Mexico rare plants of being infrequent throughout their entire range if the range exceeds 100 miles.
Conservation Considerations: The cliffside habitats of this shrub offer considerable protection from human impacts.
Important Literature (*Illustration):
*New Mexico Native Plants Protection Advisory Committee. 1984. A handbook of rare and endemic plants of New Mexico. University of New Mexico Press, Albuquerque.
*Mason, C.T., Jr. 1975. Apacheria chiricahuensis: a new genus and species from Arizona. Madroño 23(3):105-108.
*Mason, C.T., Jr. 1992. Journal of the Arizona-Nevada Academy of Science 26(1):7-9.
Information Compiled By: Jack Carter, 1998; last updated 2007
Agency Status: