Stipa curvifolia (Not NMRPTC Rare)
(Guadalupe needlegrass, curl-leaf needlegrass)
[taxon report]
[distribution map]
[all photos]
[line drawing]
---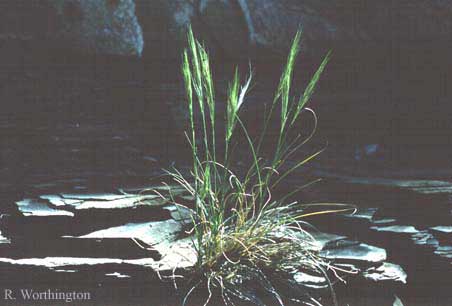 ---
Family: Poaceae
Scientific Name: Stipa curvifolia Swallen
Synonyms: Achnatherum curvifolium (Swallen) M. Barkworth
Vernacular Name: Guadalupe needlegrass, curl-leaf needlegrass
R-E-D Code: 2-1-1
Description: Tufted perennial; stems 2-6(10) dm tall; leaves clustered in the lower half; blades tightly involute, minutely velvety-hairy, curling and straw-colored in age, 5-20 cm long; inflorescences spike-like, 4-10 cm long at the tips of the flowering shoots; spikelets in dense clusters; glumes 14-16 mm long, hyaline except for 3 strong nerves; lemma densely hairy, darkened and indurate at maturity, with a sharp callus, 6-8 mm long; awn 20-50 mm long, bent once (sometimes twice) at about the middle, the lower portion with conspicuous hairs 0.5-1.5 mm long. Flowers April to mid-June.
Similar Species: Two other desert species of Stipa that might be confused with Guadalupe needlegrass are S. lobata and S. scribneri. Neither has the combination of curling involute blades and long-hairy awns found in S. curvifolia.
---
Distribution: New Mexico, Doa Ana County (Tortugas and Organ mountains), Eddy County (Guadalupe Mountains) and Otero County (Brokeoff, Guadalupe, and Sacramento mountains); adjacent Texas, Hudspeth County (Guadalupe and Delaware mountains); Mexico, northern Chihuahua (Sierra San Martin de Borracho).
Habitat: Crevices of limestone cliffs and ridges, generally on steep, north-facing slopes, sometimes in well-developed soil; 1,200-1,600 m (4,000-5,400 ft).
Remarks: This species occurs in New Mexico, Texas, Chihuahua, and Coahuila, which is well over 100 miles. Bob Sivinski reports it as a dominant grass on some ridges on the east side of the Guadalupe Mountains. Richard Worthington says it is equally common in the Delaware Mountains in Texas. The species does not meet our criterion of being infrequent throughout its entire range if the range exceeds 100 miles so it does not qualify as a New Mexico rare plant.
Conservation Considerations: The known localities for Guadalupe needlegrass are on steep, rocky ground often inaccessible to livestock, or are distant from water. Thus, grazing presently does not seem to be a threat to this species.
Important Literature (*Illustration):
*New Mexico Native Plants Protection Advisory Committee. 1984. A handbook of rare and endemic plants of New Mexico. University of New Mexico Press, Albuquerque.
Hatch, S.L. and D.A. Bearden. 1983. Stipa curvifolia (Poaceae) -- studies on a rare taxon. Sida 10(2):184-187.
Swallen, J.R. 1933. New grasses from the United States, Mexico and Central America. Journal of the Washington Academy of Science 23:456-460.
Information Compiled By: Kelly W. Allred, 1999; last updated 2005