Pseudocymopterus longiradiatus (Not NMRPTC Rare)
(Desert parsley)
[taxon report]
[distribution map]
[all photos]
[line drawing]
---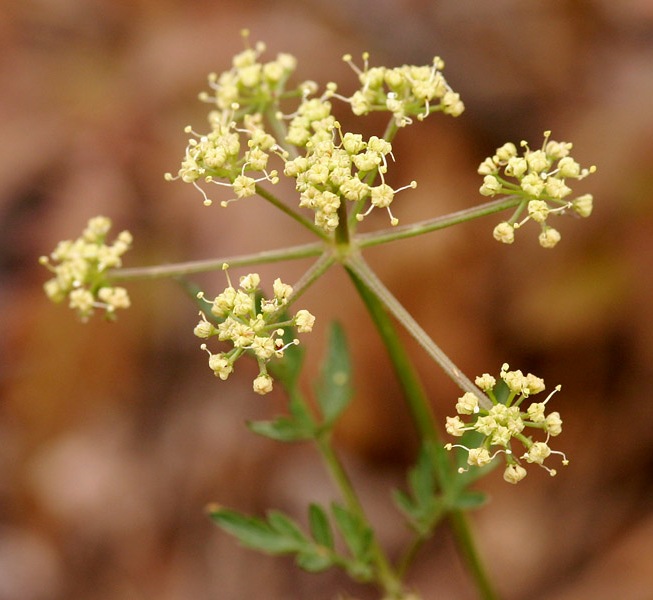 ---
Family: Apiaceae
Scientific Name: Pseudocymopterus longiradiatus Mathias, Constance & Theobald
Synonyms: None
Vernacular Name: Desert parsley
R-E-D Code: 2-1-2
Description: Perennial herb; stems striate, 3-9 dm tall; leaves 3-times pinnately divided (fern-like), 5-20 cm long and 4-15 cm wide, leaflets pinnately lobed or parted into linear-oblong to ovate divisions; inflorescence a compound umbel terminating each stem, primary branches (rays) 2-6 cm long; flower clusters subtended by linear-lanceolate bractlets 3-11 mm long; pedicels 2-6 mm long; flowers yellow; fruit oblong, glabrous, 5-9 mm long, the lateral ribs narrowly winged. Flowers April to August.
Similar Species: Cymopterus lemmonii is a smaller plant and has primary umbel branches only 1-2 cm long.
---
Distribution: New Mexico, Eddy, Otero, Sierra, and Socorro counties; Oscura, San Andres, Guadalupe, and Sacramento Mountains; Texas, mountains of the Trans-Pecos.
Habitat: Canyons and shaded slopes in juniper woodland to lower montane coniferous forest; 1,830-2,280 m (6,000-7,500 ft).
Remarks: The range of this species extends from Socorro County, New Mexico, to Brewster County, Texas, which is over 200 miles. It is "frequent" in the Sacramento Mountains, thus it does not qualify as a New Mexico rare plant.
This genus is no longer considered distinct by many taxonomists and most Pseudocymopterus species have been transferred to Cymopterus. Pseudocymopterus longiradiatus has not yet been transferred and is presently the only species in the genus Pseudocymopterus.
Conservation Considerations: Its responses to wildfire and livestock grazing have not been studied.
Important Literature (*Illustration):
*New Mexico Native Plants Protection Advisory Committee. 1984. A handbook of rare and endemic plants of New Mexico. University of New Mexico Press, Albuquerque.
Theobald, C., C. Tseng and M. Mathias. 1969. Two new species of Umbelliferae from the southwestern United States. Madroño 20:214-219.
Information Compiled By: Robert Sivinski, 1999; last updated 2005