Packera neomexicana var. metcalfei (Not NMRPTC Rare)
(Metcalfe's groundsel)
[taxon report]
[distribution map]
[all photos]
[line drawing]
---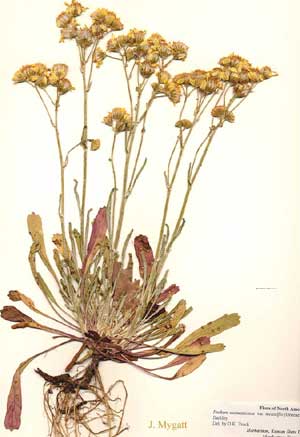 ---
Family: Asteraceae
Scientific Name: Packera neomexicana (Gray) W.A. Weber & A. Lve var. metcalfei (Greene) D.K. Trock & T.M. Barkl.
Synonyms: Senecio metcalfei Greene; Senecio neomexicanus Gray var. metcalfei (Greene) T.M. Barkl.
Vernacular Name: Metcalfe's groundsel
R-E-D Code: 1-1-2
Description: Subrhizomatous perennial; stems 1-4 dm tall; leaves mostly basal, oblanceolate to obovate, dentate towards apex, lightly tomentose or glabrate at maturity; stem leaves few and much reduced upwards; heads radiate, erect, several to many in a corymbose cyme; phyllaries narrow, in a single series; ray and disk flowers yellow; pappus of numerous white capillary bristles; achenes with small thin hairs. Flowers June to August.
Similar Species: This variety intergrades with Packera neomexicana var. mutabilis where the two are in contact. Otherwise, the subrhizomatous caudex, glabrous herbage, and dentate basal leaf apices of var. metcalfei distinguish it from the var. mutabilis, which has a branched caudex, tomentose herbage, and dentate to subentire leaves. Packera cynthioides differs mainly in that its leaves on the lower third of its stems are as large as the basal leaves.
---
Distribution: New Mexico, Catron, Grant, Sierra, and Socorro counties; adjacent eastern Arizona.
Habitat: Pion-juniper woodland and lower montane coniferous forest; 2,150-2,450 m (7,000-8,000 ft).
Remarks: Specimen annotations by Deb Trock extend the range and abundance of this taxon beyond the NMRPTC's definition of rare.
Conservation Considerations: This plant is quite common within its limited range and there appear to be no significant land use threats to its habitats.
Important Literature (*Illustration):
Barkley, T.M. 1980. Taxonomic notes on Senecio tomentosus and its allies (Asteraceae). Brittonia 32(3):291-308.
Information Compiled By: Robert Sivinski, 1999; last updated 2005
Agency Status: