Muhlenbergia arsenei
(Tough muhly, Navajo muhly)
[taxon report]
[distribution map]
[all photos]
[line drawing]
---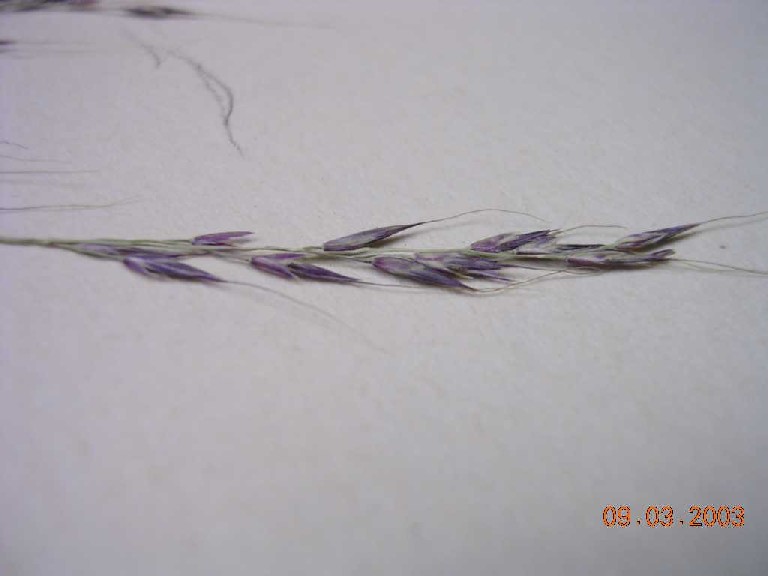 ---
Family: Poaceae
Scientific Name: Muhlenbergia arsenei A.S. Hitchcock
Synonyms: None
Vernacular Name: Tough muhly, Navajo muhly
R-E-D Code: 1-1-2
Description: Loosely tufted perennial, the spreading base sometimes appearing rhizomatous; stems wiry, 1.0-4.5 dm tall, decumbent at base; leaf blade 1-5 cm long, less than 2 cm wide, inrolled; ligule 1-2 mm long; inflorescence 4-12 cm long, less than 3 cm wide, branches ascending to appressed; spikelets 3.5-5.0 mm long excluding the awn; glumes 2-3 mm long, tips acute to very short-awned; lemma short-soft hairy on the lower half, awn flexuous, 4-12 mm long. Flowers August to September.
Similar Species: Muhlenbergia pauciflora is very similar, but has glumes that are acuminate to short-awned, lemmas that are very sparsely short-hairy only at the base, and lemma awns that are 5-20 mm long.
---
Distribution: New Mexico, McKinley, Sandoval and Santa Fe counties; Arizona, California, and Utah; Mexico, northern Baja California
Habitat: On limestone rock outcrops in piñon-juniper woodland; 1,400-2,000 m (4,600-6,500 ft).
Remarks: This species has a very broad range, but is rarely collected. The Natural Heritage Program global rank of "G5" should be re-evaluated.
Conservation Considerations: Most muhly grasses are highly palatable forage species, but the effects of livestock grazing on this species have not been studied. Further searches are needed to determine the distribution and abundance of this species.
Important Literature (*Illustration):
Hitchcock, A.S. 1928. New species of grasses from the United States. Proceedings of the Biological Society of Washington 41:157-164.
*Hitchcock, A.S. and A. Chase. 1951. Manual of the grasses of the United States, 2nd edition. U.S. Department of Agriculture Miscellaneous Publication No. 200.
Welsh S.L., N.D. Atwood, L.C. Higgins and S. Goodrich. 1993. A Utah flora, 2nd ed. Brigham Young University Press, Provo, Utah.
*Hickman, James C., Ed. 1993. The Jepson manual: higher plants of California. University of California Press, Berkeley. 1,400 p.
Allred, K. 2006. Plant distribution reports: Muhlenbergia arsenei. The New Mexico Botanist 36:7.
Information Compiled By: Charlie McDonald, 2005; last updated 2007
Agency Status: