Senecio cliffordii
(Clifford's groundsel)
[taxon report]
[distribution map]
[all photos]
[line drawing]
---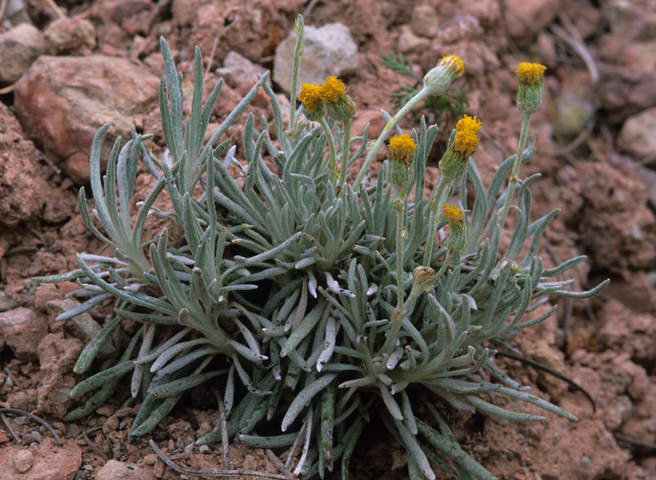 ---
Family: Asteraceae
Scientific Name: Senecio cliffordii N.D. Atwood & S.L Welsh
Synonyms: None
Vernacular Name: Clifford's groundsel
R-E-D Code: 2-1-2
Description: Tufted perennial, 4-15 cm tall, forming clumps up to 2 dm across, covered with white, felty or woolly tomentum; basal leaves linear or linear-oblanceolate, 2-4 cm long, 1-3 mm wide, flat or with margins rolled inwards; stem leaves reduced to small scales; flower stems taller than basal leaves and terminated by one or three heads; flower heads about 10 mm long, involucral bracts in one or two series, green or becoming purplish at maturity; disk flowers yellow, ray flowers absent; achenes sparsely short-hairy along the longitudinal angles; pappus of white capillary bristles. Flowers April and early May.
Similar Species: Packera spellenbergii from the shortgrass prairie of northeastern New Mexico is similar to Senecio cliffordii in general aspect, but is a smaller plant with shorter (less than 3 cm), narrower (about 1 mm), and more densely tomentose leaves. The ranges of these two species are widely separated.
---
Distribution: New Mexico, McKinley and Rio Arriba counties; Arizona, Apache County; Utah, Kane County.
Habitat: Limy mudstones or sandy soils in piñon-juniper woodland up to mixed conifer forest; 2,250-2,350 m (7,380-7,700 ft).
Remarks: Although widely distributed, this rare plant occurs in very small, sporadic populations. It is named for Navajo botanist, Arnold Clifford.
Senecio cliffordii from northwestern New Mexico and south-central Utah is included as a synonym of Packera spellenbergii in Flora of North America, Vol. 20 (Trock 2006), which would greatly extend the range of Spellenberg's groundsel. After completing her Packera treatment for Flora of North America, Deb Trock visited some populations of S. cliffordii in Arizona and New Mexico and now doubts her placement of it as a synonym of P. spellenbergii (Deb Trock email to Bob Sivinski, 2006). The NMRPTC decided at its meeting on March 30, 2007, to maintain P. spellenbergii and S. cliffordii as distinct species. If future research confirms that S. cliffordii is a distinct taxon, then it should be transferred to the genus Packera.
Conservation Considerations: The dominant land use of livestock grazing has no direct effect on this unpalatable species. A few populations in the Chuska and Nacimiento mountains occur within ponderosa pine and Douglas fir forest and may be impacted by timber management operations.
Important Literature (*Illustration):
Atwood, N.D. and S.L. Welsh. Nomenclatural proposals and taxonomic novelties. Page 838, In: Welsh, S.L., N.D. Atwood, S. Goodrich and L.C. Higgins. 2003. A Utah Flora, 3rd ed. Monte L. Bean Life Science Museum, Brigham Young University, Provo, Utah.
Trock, D.K. Packera. Pages 570-602, In: Flora of North America Editorial Committee. 2006. Flora of North America, volume 20. Oxford University Press, New York.
Information Compiled By: Robert Sivinski, 2007
Agency Status: