Microthelys rubrocallosa
(Green medusa orchid)
[taxon report]
[distribution map]
[all photos]
[line drawing]
---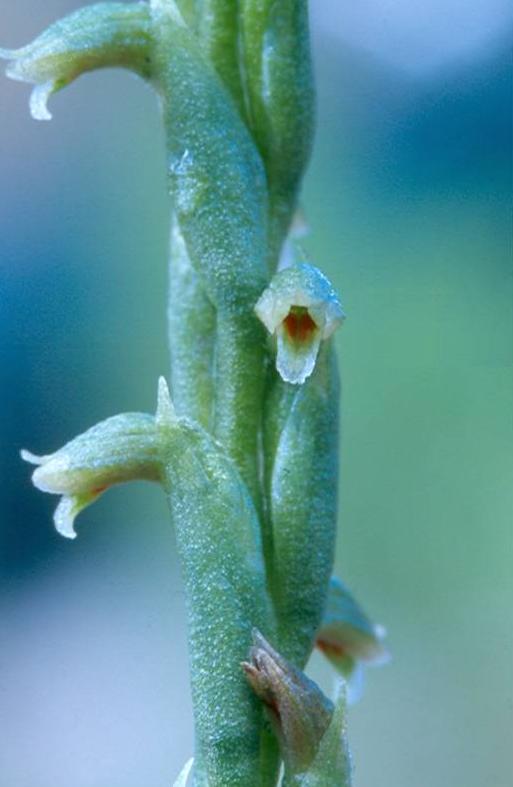 ---
Family: Orchidaceae
Scientific Name: Microthelys rubrocallosa (Robinson & Greenman) Garay
Synonyms: Spiranthes rubrocallosa Robinson & Greenman; Schiedeella rubrocallosa (Robinson & Greenman) Balogh; Spiranthes porphyricola Schlechter
Vernacular Name: Green medusa orchid
R-E-D Code: 2-1-1
Description: Perennial herb; roots tuberous, 1-5, clustered, 0.2-1.4 cm in diameter; leaves deep blue-green, 1-2 (6), emerging prior to, or with, the inflorescence and fading shortly after anthesis (McVaugh [1985] observed leafless flowering plants bearing withered leaf remains near the base, whereas initial studies of our population indicate that flowering plants generally have a pair of basal leaves); petioles 2.5-7 cm long; blades 2.5-13.5 cm long, 0.5-2 cm wide, narrowly lanceolate, acute; scapes slender and erect with 5-8 narrow, tubular sheathing bracts, 17-36 cm tall, glabrous below, glandular beneath and within spike; spike 5.5-15.5 cm long, somewhat twisted, 10-30-flowered; floral bracts 5-16 mm long, ovate-lanceolate to 4 mm wide, acute; flowers sessile, curving laterally from the spike, about 5 mm long above the ovary, the segments appressed; dorsal sepal triangular; lateral sepals lanceolate; petals linear-spatulate, curved and equal to the sepals; lip on distinct but short subauriculate claw adnate to the sepals, undivided 4-4.5 mm long, 1.6-2.5 mm wide, conduplicate, the tip obtuse, nearly straight, not much decurrent, the blade ovate to elliptic with a fleshy center and tongue-like apex, pubescent above; calluses 2, bright salmon-orange, extending two-thirds the length of the lip; gynostemium 3-4 mm long and relatively massive; rostellum low, transverse, sometimes notched. Flowers July and August.
Similar Species: Microthelys rubrocallosa is easily distinguished from other orchids of the Sacramento Mountains by its slender, green flowering stalk bearing small, green, white-tipped tubular flowers comprised of hood-forming sepals and petals around a central column and lip. Two bright salmon-orange calluses set off the lower two-thirds of the lip, topped by a transverse band of green, and terminating in a white obtuse tip.
---
Distribution: New Mexico, Otero County, Sacramento Mountains; Mexico, Chihuahua, Coahuila, Puebla, and Veracruz.
Habitat: Light-to-moderately wooded south-facing pine forests; 2,440 m (8,100 ft). New Mexico specimens have been observed at a single location in a post-fire, mesic, mixed conifer forest.
Remarks: Primarily Mexican in its distribution, M. rubrocallosa was discovered by Marc Baker and Kanin Routson and later confirmed by Ron Coleman in the Sacramento Mountains of New Mexico in late summer 2004. It was first discovered by Pringle in October 1887 in the Sierra de las Cruces in the state of México, but abundance in Mexico is not well documented. Cyrus Pringle (1838-1911) was an American botanist who spent his life cataloging plants of North America with an emphasis on collecting Mexican specimens. He collected about 1,200 species new to science, 100 new varieties, 29 new genera, and 4 new combinations.
Conservation Considerations: This orchid is known in New Mexico from a single low-density population where less than 20 individuals were observed. At this time little is known about its ecology and management needs. Since the sole location is in a post-fire forest it appears to have some ability to persist after fire. However, numbers could have changed significantly as a result of fire. Further investigations into the impacts of fire and timber harvest are needed for this species.
Important Literature (*Illustration):
Balogh, P. 1981. Nomenclatural notes on the genus Schiedeella Schlechter. Orquidea 8(1):38-40.
*Coleman, R.A. and M. Baker. 2006. Microthelys rubrocallosa, a new addition to the orchid flora of the United States. Orchids: The Magazine of the American Orchid Society 75(1):56-57.
*McVaugh, R. 1985. Flora Novo-Galiciana, Vol. 16: Orchidaceae. University of Michigan Press, Ann Arbor.
Pridgeon, A.M., P.J. Cribb and F.N. Rasmussen. 2003. Genera Orchidacearum, Vol. 3. Oxford University Press, Oxford, UK
Robinson, B.L. and J.M. Greenman. 1895. Mexican plants. American Journal of Science and Arts 50:165.
Szlachetko, D. 1991. Genera and species of the subtribe Spiranthinae (Orchidaceae) 1: Contribution to the revision of Galeottiella. Fragmenta Floristica Geobotanica 36(1):1-12.
*Szlachetko D.L., P. Rutkowski and J. Mytnik. 2005. Contributions to the taxonomic revision of the subtribes Spiranthinae, Stenorrynchidinae and Cyclopogoninae (Orchidaceae) in Mesoamerica and the Antilles. Polish Botanical Studies 20.
Information Compiled By: Phil Tonne, 2008
Agency Status: