Solidago correllii
(Guadalupe Mountains goldenrod)
[taxon report]
[distribution map]
[all photos]
[line drawing]
---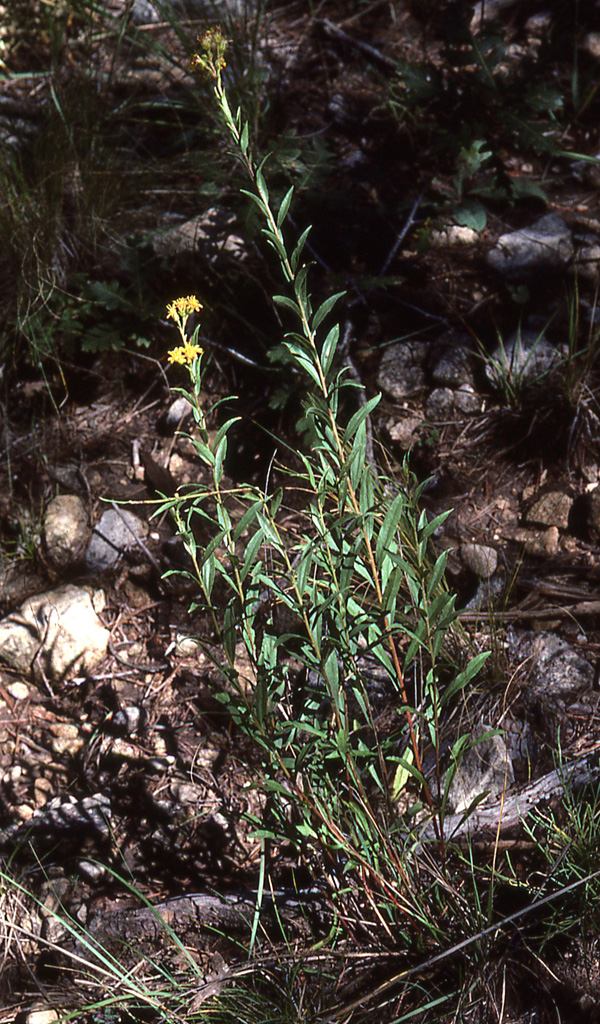 ---
Family: Asteraceae
Scientific Name: Solidago correllii Semple
Synonyms: Solidago wrightii A.Gray var. guadalupensis G.L. Nesom
Vernacular Name: Guadalupe Mountains goldenrod
R-E-D Code: 2-1-2
Description: Sub-rhizomatous clumped perennial herb; stem 3-7 dm long, ascending to erect; upper stems sparsely to densely hirsute, eglandular; leaves alternate, lanceolate, 3-6 cm long, 4-7 mm wide, narrowly lanceolate to linear-lanceolate on the upper plant; inflorescence subcorymboid 3-6 (-9) cm long and broad; heads 9-12 mm wide; rays about 4 mm long, 2 mm wide, rather large and showy for members of Solidago; phyllaries glabrous to minutely sessile-glandular; achenes mostly glabrous (rarely strigose). Flowering June to August.
Similar Species: Solidago correllii can be distinguished from S. wrightii by its narrow lanceolated mid stem leaves (3-6 cm long by 3.5-7(-13) mm wide as compared to 3-6 cm long by 10-20(-35) mm wide in S. wrightii, by its 1-3 cm long petioles of the basal rosette and lowest stem leaves, by its sometimes resinous shiny phyllaries, and by its usually sparsely hairy to glabrous achenes. Leaves of S. correllii can look silvery or green when viewed from different angles.
---
Distribution: New Mexico, Chaves and Eddy counties; Texas, Culberson County.
Habitat: Limestone outcrops and substrates, most commonly associated with the following vegetation types: acacia-juniperus-dasylirion-lechuguilla, oak, oak-maple, and yellow pine-maple-hophornbeam-madrone; 1,340-2,200 m (4,300-7,100 ft).
Remarks: None
Conservation Considerations: The taxon occurs in just two broad population systems. Additional field work is needed to determine abundance and potential land use impacts.
Important Literature (*Illustration):
Correll, D.S. and M.C. Johnston. 1970. Manual of the vascular plants of Texas. Texas Research Foundation, Renner, Texas.
Nesom, G. 2008. Taxonomic review of Solidago petiolaris and S. wrightii (Asteraceae: Astereae). Phytologia 90(1):21-35.
Semple, J.C. 2017. Solidago correllii (Asteraceae: Astereae), a new species from the Guadalupe Mountain region. Phytoneuron 2017-76: 1-8.
Semple, J.C., Y. Ma, U. Naik, N. Steenhof, and L. Tong. 2017. A multivariate morphometric analysis of Solidago subsect. Thyrsiflorae (Asteraceae: Astereae). Phytoneuron 2017-77: 1–37.
Information Compiled By: Donovan Bailey, 2009; updated 2017
Agency Status: