Draba henrici
(Henk's draba)
[taxon report]
[distribution map]
[all photos]
[line drawing]
---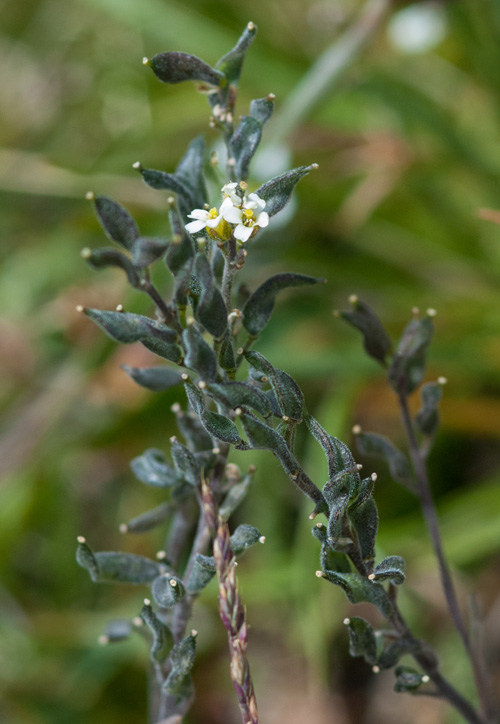 ---
Family: Brassicaceae
Scientific Name: Draba henrici Al-Shehbaz
Synonyms:
Vernacular Name: Henk's draba
R-E-D Code: 3-3-3
Description: Perennial herb, not cespitose; caudex few to several branched. Stems (2–) 4–10(–12) cm, erect to ascending or rarely subdecumbent. Basal leaves rosulate; petiole 2–5 mm, leaf blade narrowly oblanceolate, 5–12 Χ 1–2 mm, both surfaces moderately pubescent with stalked, 4(–7)-rayed trichomes, cauline leaves (8–)10–16(–20), overlapping, lanceolate to oblong or narrowly ovate, entire or rarely denticulate. Racemes 6–15-flowered, corymbose, elongated in fruit. Sepals green with white margin, ovate, 1.5–2 mm, ascending, pubescent. Petals white, oblanceolate, 3–3.5 Χ 1–1.5 mm; filaments white, 1.5–2 mm. Fruit (immature) narrowly oblong, 6–8 Χ ca. 1.5 mm, slightly twisted, sessile, divaricate-ascending, not appressed to rachis; valves puberulent with simple and 2(–4)-rayed trichomes. Flowers in July to early August.
Similar Species: Draba henrici can be distinguished from other sympatric Drabas by its white flowers and smaller petals.
---
Distribution: New Mexico, Taos County
Habitat: Alpine tundra above 11,000 ft (3,350m)
Remarks: Not much is known about the actual distribution and abundance of this species. Needs more surveys and documentation in alpine areas.
Conservation Considerations: Only known populations are along trails in remote alpine areas. Limited distribution and high elevation habitats make this species vulnerable to climate change.
Important Literature (*Illustration):
*Al-Shehbaz, I.A. 2013 Draba henrici (Brassicaceae), a new species from northern New Mexico. Harvard Papers in Botany 18 (1): 91-93
Information Compiled By: Daniela Roth, 2016
Agency Status: