Adenophyllum wrightii var. wrightii (Not NMRPTC Rare)
(Wrights dogweed)
[taxon report]
[distribution map]
[all photos]
[line drawing]
---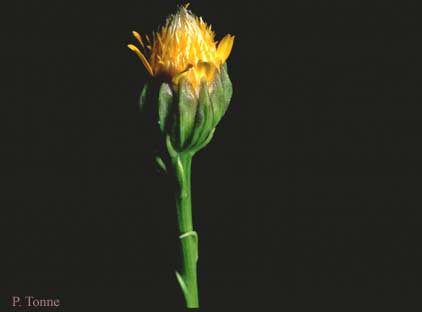 ---
Family: Asteraceae
Scientific Name: Adenophyllum wrightii A. Gray var. wrightii
Synonyms: Dyssodia neomexicana (A. Gray) Robinson var. neomexicana; Thymophylla neomexicana (A. Gray) Wooton & Standley; Hymenatherum neomexicanum A. Gray
Vernacular Name: Wrights dogweed
R-E-D Code: 2-1-2
Description: Annual, 1.5-7 dm tall, branched from the base, stems striate, glabrous; basal leaves opposite, upper stem leaves alternate, 2.5-3.5 cm long, pinnatisect, bearing a conspicuous gland at the base of each lobe; bracts below the head not lobed; flower heads 7-8 mm high; involucral bracts in two subequal series, the series united for to their length, margins of outer bracts free nearly to the base, outer bracts with 3-5 conspicuous glands and inner whorl with 0-3 glands; ray flowers (about 8), small and inconspicuous, yellow-orange, cleft apically; disk flowers (30-50), dull pale yellow, often tipped with crimson; pappus of two dissimilar series, the outer of 10 irregularly toothed scales, the inner of 10 smaller scales, each dissected into 3 hispidulous awns; achenes sparsely silky, weakly 4-5 angled, black, striate. Flowers in September.
Similar Species: Dyssodia papposa is usually a smaller plant with opposite leaves and branches. Its phyllaries are not united (free nearly to the base) and its pappus is a single series of scales that are each dissected into numerous fine bristles.
---
Distribution: New Mexico, Grant and Sierra counties; adjacent southeastern Arizona; Mexico, northern Chihuahua.
Habitat: Sandy or silty soils in swales and drainages in pion-juniper woodland; 2,100-2,200 m (7,000-7,200 ft) in New Mexico.
Remarks: This plant was formerly known from a few very old collections made near the Santa Rita copper mines and in the Black Range, New Mexico, near Springerville, Arizona, and in Chihuahua, Mexico. It was rediscovered in New Mexico in 1999 in the same general area as plants collected in 1880. The rediscovered populations are healthy and plants appear to be reproducing normally. During the abnormally wet summer of 2006, numerous populations of this plant were discovered in Grant and Sierra counties, New Mexico. It is now considered to be common within its range in New Mexico. In the fall of 2007, Richard Spellenberg reported finding Adenophyllum wrightii var. wrightii in western Chihuahua where it was "a weed" at one locality and present at another location further north. The presence of populations in Chihuahua, Mexico, make the total range of this plant well over 100 miles. Therefore, Adenophyllum wrightii var. wrightii can no longer be considered rare under NMRPTC criteria.
Conservation Considerations: Additional field serveys during wet summers may extend the range of this plant into other mountain ranges in southern New Mexico. Roads that concentrate runoff into low areas may create habitat for this plant.
Important Literature (*Illustration):
Sivinski, R. 2000. Wright's dogweed (Adenophyllum wrightii) New Mexico status survey. Report for Section 6, Segment 14, U.S. Fish and Wildlife Service, New Mexico Ecological Services Field Office, Albuquerque, New Mexico. 4 pp.
Strother, J.L. 1969. Systematics of Dyssodia Cavanilles (Compositae: Tageteae). University of California Press, Berkeley.
Strother, J.L. 1986. Renovation of Dyssodia (Compositae: Tageteae). Sida 11:371-378.
Anderson, W., R. Sivinski and K. Allred. 2006. Plant distribution reports: Adenophyllum wrightii var. wrightii. The New Mexico Botanist 36:7.
Flora of North America Editorial Committee. 2006. Flora of North America, volume 21. Oxford University Press, New York.
Information Compiled By: Robert Sivinski, 2000; last updated 2007
Agency Status: