Astragalus siliceus
(Flint Mountains milkvetch)
[taxon report]
[distribution map]
[all photos]
[line drawing]
---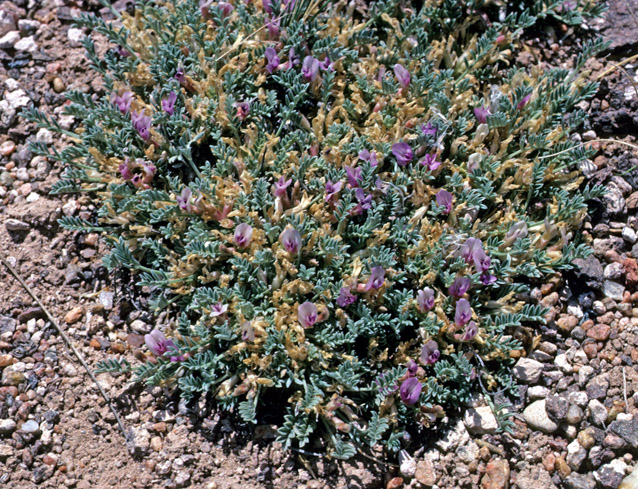 ---
Family: Fabaceae
Scientific Name: Astragalus siliceus Barneby
Synonyms: None
Vernacular Name: Flint Mountains milkvetch
R-E-D Code: 1-1-3
Description: Densely tufted and matted perennial from an intricately branching subsurface caudex; above ground stems absent or less than 2 cm long; leaves crowded, silvery-canescent with mostly appressed dolabriform hairs, pinnately 5-9 foliolate, to 3 cm long, the leaflets elliptic; racemes 1 to 3-flowered, short, not exceeding the foliage; flowers pea-like, pale lavender to vivid pinkish-purple, 10-12 mm long; pods ascending or spreading, ovoid, 5.0-7.5 mm long, slightly compressed from the sides. Flowers in May.
Similar Species: The allopatric Astragalus wittmanii differs from A. siliceus by its larger leaves, rounded pods, and solitary flowers.
---
Distribution: New Mexico, Santa Fe, Torrance, and Guadalupe counties.
Habitat: Calcareous knolls and rocky areas in rolling shortgrass prairie; 1,830-2,000 m (6,000-6,500 ft).
Remarks: Astragalus siliceus is a New Mexico endemic that is limited in distribution, but apparently increases with disturbance.
Conservation Considerations: There are numerous small populations of this species within its limited range. A few have been impacted by mining of rock and gravel for roadbase materials. Small abandoned quarries are recolonized by Astragalus siliceus, but large quarries may eliminate portions of suitable habitat. This species is not threatened by livestock grazing.
Important Literature (*Illustration):
*New Mexico Native Plants Protection Advisory Committee. 1984. A handbook of rare and endemic plants of New Mexico. University of New Mexico Press, Albuquerque.
Isely, D. 1998. Native and naturalized Leguminosae (Fabaceae) of the United States. Monte L. Beane Life Science Museum, Brigham Young University, Provo, Utah.
Barneby, R.C. 1956. Four new species and one variety; Pugillus Astragalorum XVII. Leaflets of Western Botany 8:14-16.
Information Compiled By: Ken Heil, Joey Herring, 1999
Agency Status: