Chaetopappa hersheyi
(Hershey's cliff daisy)
[taxon report]
[distribution map]
[all photos]
[line drawing]
---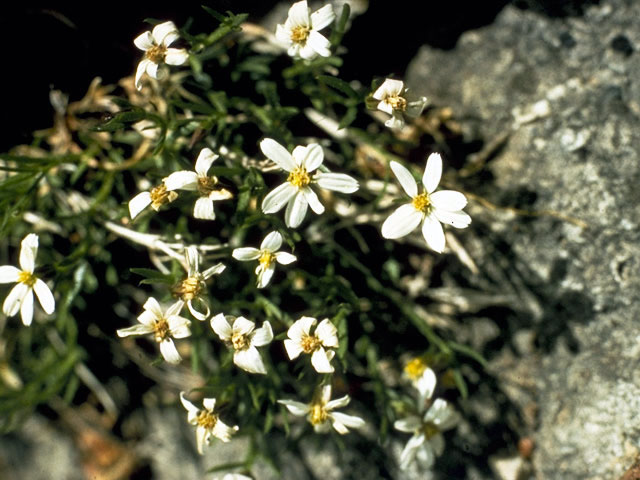 ---
Family: Asteraceae
Scientific Name: Chaetopappa hersheyi Blake
Synonyms: None
Vernacular Name: Hershey's cliff daisy
R-E-D Code: 1-1-2
Description: Matted perennial from woody rootstocks; stems to 5 cm high; sparsely pubescent with ascending or loosely appressed hairs, terminated by a solitary flower head; basal rosettelike leaves clustered, spatulate or lance shaped, spiny at the tip, 1.5-6 mm long, to 1 mm wide; stem leaves 4-7; involucre 4-6 mm high, spine tipped; involucres 4-4.6 mm high; phyllaries lanceolate, acute or acuminate, slenderly spine-pointed and sparsely appressed-pubescence on the midrib, or glabrous; ray flowers 6-10, bluish at first, fading to white; disk flowers 5-6; corollas 3.3-4.3 mm long, yellow; achenes of ray flowers 2-3 nerved; achenes of disk flowers 5 nerved. Flowers May.
Similar Species: The closest relative to the Hershey cliff daisy is Ionactis elegans a narrow endemic of Sierra Blanca in Otero County. Ionactis elegans has loose and crinkly stem hairs and densely strigose achenes. In Chaetopappa hersheyi, the stem hairs are rigid and the achenes sparsely stigose.
---
Distribution: New Mexico, Eddy County; adjacent Texas.
Habitat: Steep limestone cliffs in piñon-juniper woodland and Rocky Mountain montane coniferous forest communities; 1,525 m (5,000 ft).
Remarks: Hershey's cliff daisy is endemic to the steep canyons of the Guadalupe Mountains. In some areas it is relatively abundant.
Conservation Considerations: The major threat is from collection along trails; however, most plants are inaccessible.
Important Literature (*Illustration):
*New Mexico Native Plants Protection Advisory Committee. 1984. A handbook of rare and endemic plants of New Mexico. University of New Mexico Press, Albuquerque.
*Blake, S.F. 1946. A new Chaetopappa from the Guadalupe Mountains of New Mexico and Texas. Proceedings of the Biological Society of Washington 59:47-48.
*Warnock, B.H. 1974. Wildflowers of the Guadalupe Mountains and the Sand Dune Country, Texas. Sul Ross University, Alpine, Texas.
Information Compiled By: Ken Heil, Joey Herring, 1999
Agency Status: