Cirsium wrightii
(Wright's marsh thistle)
[taxon report]
[distribution map]
[all photos]
[line drawing]
---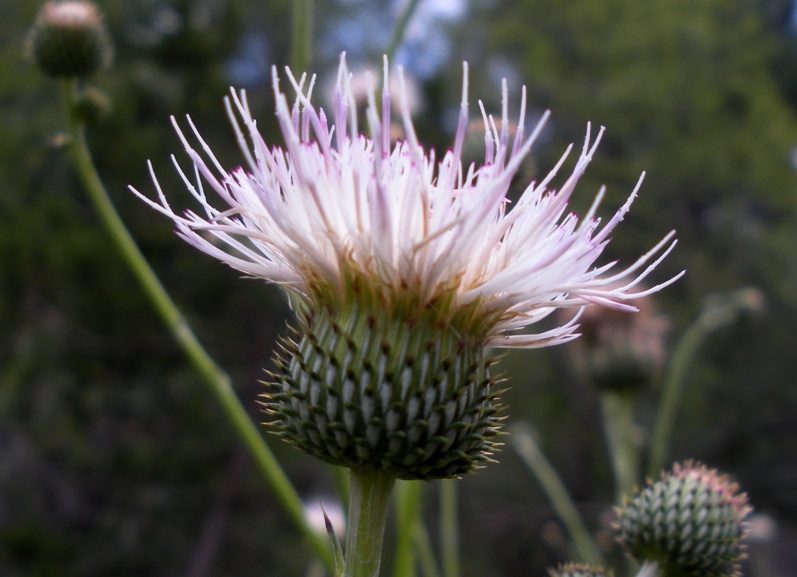 ---
Family: Asteraceae
Scientific Name: Cirsium wrightii A. Gray
Synonyms: None
Vernacular Name: Wright's marsh thistle
R-E-D Code: 3-2-1
Description: Robust biennial or monocarpic perennial; stem strict, 1-2.5 m tall; basal leaves ample, succulent, 30 cm or more long, sinuate or pinnatifid, weakly prickly with short black spines, nearly glabrous, the thin weblike wool tardily deciduous; stem leaves similar, sessile, strongly decurrent, gradually reduced in size up the stem; heads terminating thin branches in naked panicles, hemispherical, 2-3 cm across; phyllaries small, somewhat glandular with papillose projections on upper surface; outer phyllaries subulate, cuspidate-tipped; corollas white or pink; style tips about 3 mm long. Flowers August to October.
Similar Species: Cirsium wrightii differs from C. texanum in being an obligate wetland species with nearly glabrous leaves and stem and thick succulent leaves. It is tall (up to 2.5 m), and has a strict growth form.
---
Distribution: New Mexico, Eddy, Chaves, Guadalupe, Otero, Sierra, and Socorro counties, extant in Sacramento Mountains, lower Pecos River valley, and Alamosa Springs in Socorro County; adjacent Texas; Mexico, Chihuahua.
Habitat: Wet, alkaline soils in spring seeps and marshy edges of streams and ponds; 1,130-2,600 m (3,450-8,500 ft).
Remarks: The type location for this species is, "Around springs near San Bernardino, on the borders of New Mexico and Sonora, Oct." This appears to be a location in Cochise County, Arizona, but this taxon has not been relocated in that county. An old specimen collected at Lake Valley in southern Sierra County is stored at the U.S. National Herbarium. Suitable spring seeps no longer occur there and this population also is likely extirpated. Known extant populations are widely disjunct. The thistles at Rattlesnake Springs (Carlsbad Caverns National Park) show characteristics that are intermediate between Cirsium wrightii and C. texanum, but this population blooms in May rather than in August through October as do typical C. wrightii. It sometimes occurs with the threatened Cirsium vinaceum in the Sacramento Mountains where a few hybrids between these rare taxa have been observed. It also occasionally occurs with the threatened Helianthus paradoxus in the Pecos River valley.
Bob Sivinski reported a new population in 2005 at Alamosa Springs just west of Monticello Box in southwestern Socorro County and another new population in 2009 at Blue Spring in south-central Eddy County.
Conservation Considerations: Desert springs and cienegas are susceptible to drying-up, or being diverted. Populations in the city of Roswell, Chavez County, at Lake Valley, Sierra County, and at San Bernardino Cienega in Arizona appear to be extirpated. The large desert springs near Galeana, Chihuahua, called Ojos de Arrey (a.k.a. Cerro Angostura Spring) are now dry and that unique wetland is extinguished. That was the only documented location for C. wrightii in Chihuahua, Mexico. Introduction of insects as biological control for weedy thistles may pose a grave hazard for non-weedy thistle species.
Important Literature (*Illustration):
Gray, A. 1853. Plantae Wrightianae 2:101. [Original description]
Gray, A. 1874. Proceedings of the American Academy of Science 10:41.
Kearney, T.H. and R.H. Peebles. 1951. Arizona Flora. University of California Press, Berkeley.
Martin, W.C. and C.R. Hutchins. 1980. A flora of New Mexico, vols. 1-2. J. Cramer, Vaduz.
Sivinski, R.C. 1996. Wright's marsh thistle, Cirsium wrightii. Section 6 progress report, segment 10, for U.S. Fish and Wildlife Service, New Mexico Ecological Services Field Office, Albuquerque.
Sivinski, R.C. 2012. Cirsium wrightii - Wright's marsh thistle: a 2012 population assessment. Unpublished report prepared for EMNRD-Forestry Division, Santa Fe, NM. RCS Southwest, Santa Fe, NM.
Sivinski, R.C. 2016. New Mexico thistle identification guide. Prepared for the Native Plant Society of New Mexico, Albuquerque. Available at: https://www.npsnm.org/education/thistle-identification-booklet/
Information Compiled By: Patricia Barlow-Irick, 1999; last updated 2017
Agency Status: