Coryphantha robustispina ssp. scheeri
(Mulee, needle mulee, beehive cactus, pineapple cactus, Scheer pincushion)
[taxon report]
[distribution map]
[all photos]
[line drawing]
---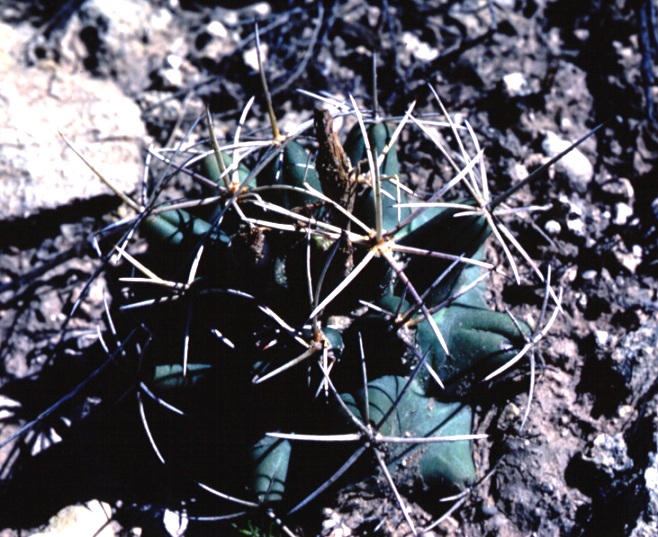 ---
Family: Cactaceae
Scientific Name: Coryphantha robustispina ssp. scheeri (Lem.) N.P. Taylor
Synonyms: Echinocactus muehlenpfordtii Poselger; Mammillaria engelmannii Cory; Coryphantha neoscheeri Backeberg; Coryphantha scheeri var. scheeri (Muehlenpfordt) L. Benson
Vernacular Name: Mulee, needle mulee, beehive cactus, pineapple cactus, Scheer pincushion
R-E-D Code: 1-1-2
Description: Stems succulent, hemispheric, tubercled, up to 15 cm in diameter and tall, or exceptionally taller, usually single but sometimes a few in a cluster; tubercles to 7 mm long, conical, somewhat dorsiventrally flattened, with a felted groove running the length of the upper side; spines usually straight, with mostly 6-12 radials to 2.5 cm long, some upper radials often much like the central spine; central spine usually single, stouter than radials, and to 4 cm long (but usually shorter); flowers about 5 cm wide, yellow, rarely streaked or blushed with reddish in center; stamens yellow to orange; fruit to 3 cm long by 1.5 cm wide, green, the pulp juicy and mucilaginous, the perianth deciduous when mature; seeds brown, nearly smooth, about 2-3 mm long, somewhat flattened and kidney-shaped, with a lateral hilum. Flowers May to July, and possibly to as late as November.
Similar Species: In New Mexico, only Coryphantha scheeri var. valida and C. macromeris are similar. Coryphantha scheeri var. valida occurs farther to the west and has usually more than one central spine, more than 11 radial spines, spines stouter, and the flowers, fruits, and seeds average slightly larger. The main central spine is often curved down and occasionally hooked (the basis for the name "var. uncinata," which is a synonym of var. valida). Coryphantha macromeris differs in smaller size, clustering habit, groove not reaching the base of the tubercle, lavender to magenta flowers, and smaller, rounder seeds.
---
Distribution: New Mexico, Chaves and Eddy counties; adjacent western Texas, Brewster, Crockett, Loving, Pecos, Reeves, Terrell, Ward, and doubtfully Maverick counties.
Habitat: Favors nearly level areas in desert grassland and Chihuahuan desert scrub, usually on gravelly or silty soils, occasionally on rocky benches or bajadas on limestone or gypsum; 1,000-1,100 m (3,300-3,600 ft).
Remarks: This subspecies is apparently limited to the Pecos River drainage in western Texas and southeastern New Mexico; it is unknown if it is present in adjacent Coahuila. The subspecies shows kinship to Coryphantha sulcata, which occurs farther to the east. The variety scheeri is little studied, and population dynamics are not well understood. Apparently populations exist over wide areas in low densities.
Conservation Considerations: Since populations are apparently comprised of relatively few long-lived individuals, it is likely that any impact may be detrimental to the health of the populations. A few plants have been observed to be damaged by trampling and to be eaten by domestic livestock. Off-road vehicles and commercial and residential development seem to have a limited impact in some areas. Landscape scale herbicide application and oil and gas development may have significant impacts on the species rangewide.
Important Literature (*Illustration):
*Benson, L. 1970. The cactaceae. In: C.L. Lundell and collaborators. Flora of Texas 2:221-317. Texas Research Foundation, Renner.
Benson, L. 1982. The cacti of the United States and Canada. Stanford University Press, Stanford, California.
*Weniger, D. 1970. Cacti of the Southwest. University of Texas Press, Austin.
*Schulz, E.D. and R. Runyon. 1930. Texas cacti. Texas Academy of Science, San Antonio.
*Britton, N.L. and J.N. Rose. 1923. The cactaceae, vol. IV. Carnegie Institution, Washington, D.C.
Zimmerman, A., C. Glass, R. Foster and D. Pinkava. 1997. Cactaceae. Pages 205-354, In: J. Henrickson and M.C. Johnston (eds.). A flora of the Chihuahuan Desert region, ed. 1.2, 2 vols. Published by J. Henrickson, Los Angeles (trial version for correction).
Information Compiled By: David J. Ferguson, 1999. Last update 2014
Agency Status: