Cymopterus breviradiatus (Not NMRPTC Rare)
(San Juan false carrot)
[taxon report]
[distribution map]
[all photos]
[line drawing]
---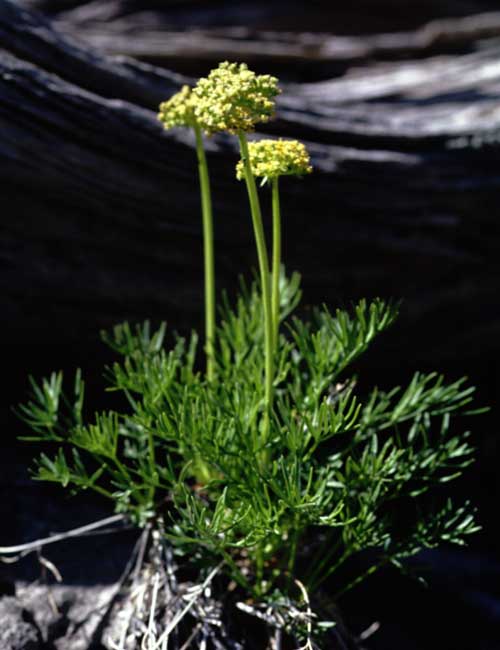 ---
Family: Apiaceae
Scientific Name: Cymopterus breviradiatus (Theobald & Tseng) R.L. Hartman
Synonyms: Cymopterus breviradiatus (Theobald & Tseng) R.L. Hartman is now a synonym of Cymopterus sessiliflorus (Theobald & Tseng) R.L. Hartman; Aletes macdougalii Coulter & Rose ssp. breviradiatus Theobald & Tseng
Vernacular Name: San Juan false carrot
R-E-D Code: 2-1-2
Description: Herbaceous perennial, 6-16 cm tall with several to many leaves and 1 to several peduncles arising from an often much-branched, woody root crown; leaves oblong in outline, blades 2.7-6 cm long, 2-3.5 cm wide, usually bipinnate, pinnae linear to ovate, 5-20 mm long, 1-4 mm wide, ultimate divisions linear to oblanceolate; peduncles 10.2-16 cm long, exceeding the leaves, glabrous to granulose at summit; bracts usually none; rays 6-8, about equal, spreading, 4-8 mm long; bractlets linear to narrowly elliptic, 2-5 mm long, distinct; pedicels 6-8, most 0.8-1.6 mm long; calyx-teeth linear to ovate or deltoid, 0.5-1 mm long; fruit oblong, 3.5-4.5 mm long, 1.7-2.5 mm wide, lateral and dorsal ribs prominently membranous-winged, wings to 1 mm tall, vittae 1 in intervals, 2 on commissure. Flowering May and June.
Similar Species: Cymopterus sessiliflorus resembles this species. The most reliable discriminating character is the bractlets of the inflorescence that are distinct in C. breviradiatus and usually connate in the lower 20-40 percent in C. sessiliflorus.
---
Distribution: New Mexico, San Juan County, Animas and San Juan river valleys; adjacent Colorado, Montezuma County, Mesa Verde National Park; adjacent Utah, San Juan County
Habitat: Sandstone slabs and canyon walls, usually growing in crevices (rarely on deeper sandy soil) in pion-juniper woodland; 1,770-2,500 m (5,800-8,200 ft).
Remarks: Hartman (Pers. Comm. 2007) has concluded that Cymopterus breviradiatus forms a morphological continuum with C. sessiliflorus and thus should be treated as a synonym of it. This taxonomic treatment will appear in the Four Corners Flora (In Prep.). The NMRPTC accepts this taxonomic treatment. Cymopterus sessiliflorus has a range greater than 100 miles and is fairly common so it does not qualify as rare under NMRPTC criteria.
Conservation Considerations: Systematic studies should be encouraged to further clarify relationships between plants identified as C. breviradiatus and other similar species and the generic limits of this species group. Additional collections are needed, especially fruiting specimens.
Important Literature (*Illustration):
*Theobald, W.L., C.C. Tseng and M.E. Mathias. 1964. A revision of Aletes and Neoparrya (Umbelliferae). Brittonia 16:296-315.
Welsh, S.L. and S. Goodrich. 1981. New taxa of Western plants - In tribute. Brittonia 33:297. (Cymopterus beckii)
Welsh, S.L. and S. Goodrich. 1985. A fourth species of Oreoxis (Umbelliferae). Great Basin Naturalist 45:34-36. (Oreoxis trotteri)
Hartman, R.L. 2006. New combinations in the genus Cymopterus (Apiaceae) of the southwestern United States. Sida 22(2):955-957.
Heil, K. et al. Bolack San Juan Basin Flora. Missouri Botanical Garden Press, St. Louis, Missouri. In prep.
Information Compiled By: Ronald L. Hartman, 1999; last updated 2007
Agency Status: