Ephedra coryi (Not NMRPTC Rare)
(Cory's joint-fir)
[taxon report]
[distribution map]
[all photos]
[line drawing]
---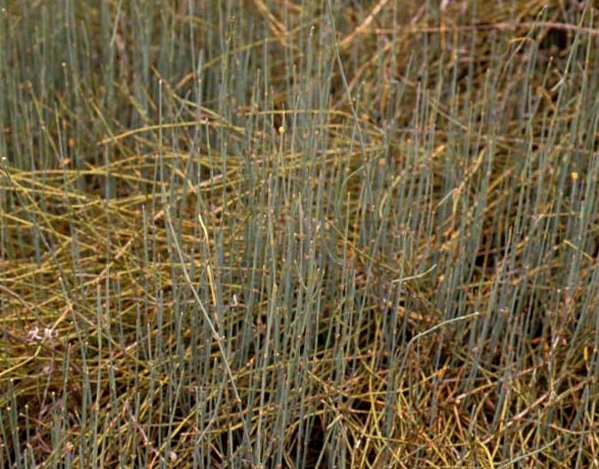 ---
Family: Ephedraceae
Scientific Name: Ephedra coryi E.L. Reed
Synonyms: None
Vernacular Name: Cory's joint-fir
R-E-D Code: 2-1-2
Description: Dioecious rhizomatous shrubs, forming erect clumps, to 1.5 m in height; bark red-brown to gray with age, cracked and irregularly fissured; branches alternate or more commonly whorled and becoming rigid; twigs bright green, becoming yellow-green with age and not viscid; terminal buds conic, 1-3 mm long; leaves opposite, small, brown, appearing as pairs of connate scales along the stems; pollen cones 2 to several at nodes, obovoid, 4-6 mm long, on very short peduncles or sessile; female cones 2 to several at nodes, on naked peduncles 7-15 mm long, orange at maturity; seeds 2, paired, ellipsoid, brown to chestnut and smooth. Cones produced in late winter and early spring.
Similar Species: In the southern counties it may be confused with Ephedra aspera late in the growing season after the seeds have fallen. The 2 seeds per cone in E. coryi versus the 1 seed per cone in E. aspera is an important distinguishing characteristic.
---
Distribution: New Mexico, possibly Eddy and Lea counties; western Texas.
Habitat: In dry sandy soils, and on dunes; below 1,520 m (5,000 ft).
Remarks: Plants from central New Mexico that were identified as Ephedra coryi based on unusually long female cone peduncles are better assigned to E. viridis based on growth habit and other morphological characteristics (Sivinski 2010). The only E. coryi in New Mexico are reported from the southeastern corner of the state by Correll and Johnston (1970), but without specimen citation.
Ephedra coryi is known from 11 counties in western Texas with a range of about 175-200 miles. There is abundant habitat within its range. There are 17 records in the Flora of Texas database of the Plant Resources Center, University of Texas at Austin. The NatureServe rank for this species is G3S3. The NMRPTC concluded at its meeting on February 25, 2011, that E. coryi does not qualify as rare under NMRPTC criteria.
Conservation Considerations: None.
Important Literature (*Illustration):
*Carter, J.L. 1997. Trees and shrubs of New Mexico. Johnston Books, Boulder, Colorado.
Correll, D.S. and M.C. Johnston. 1970. Manual of the vascular plants of Texas. Texas Research Foundation, Renner, Texas.
*Flora of North America Editorial Committee. 1996. Flora of North America, Volume 2. Oxford University Press, New York.
Powell, A.M. 1988. Trees and shrubs of Trans-Pecos Texas. Big Bend Natural History Association, Alpine, Texas.
Martin, W.C. and C.R. Hutchins. 1980. A flora of New Mexico, vols. 1-2. J. Cramer, Vaduz.
Sivinski, R.C. 2010. Ephedra coryi in central New Mexico? The New Mexico Botanist. No. 52. pp 1-2. Available online at http://aces.nmsu.edu/academics/rangescienceherbarium/
Information Compiled By: Jack Carter, 1998; last updated, 2011