Erigeron hessii
(Hess' fleabane)
[taxon report]
[distribution map]
[all photos]
[line drawing]
---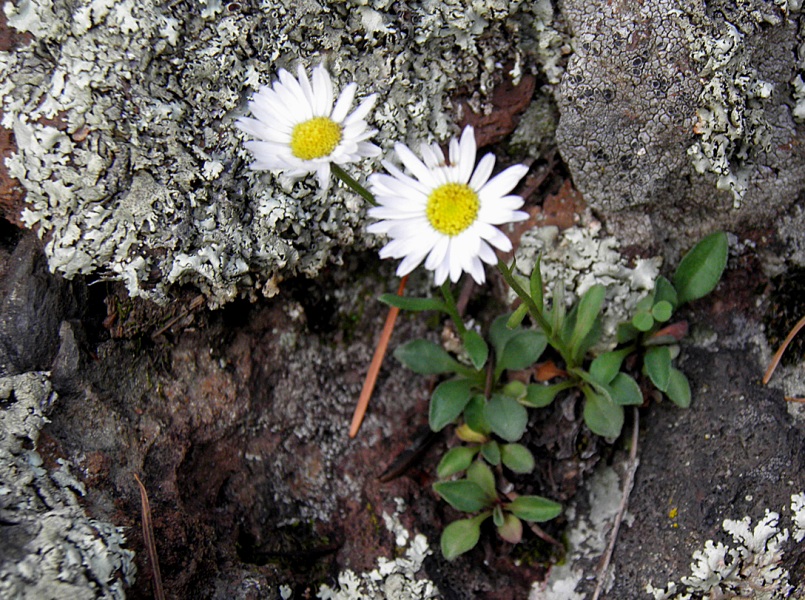 ---
Family: Asteraceae
Scientific Name: Erigeron hessii Nesom
Synonyms: None
Vernacular Name: Hess' fleabane
R-E-D Code: 3-1-3
Description: Densely tufted, sparsely hairy perennial herbs; stems from many crowded, short branches, 5-16 cm tall; basal leaves lance-shaped to elliptic, broader above the middle, to 7 cm long and 7 mm wide, usually smaller, blades about one-half the length of the leaf, tapering gradually to a flattened, ciliate petiole; stem leaves without petioles and progressively much smaller upwards; flower heads solitary at the ends of stems; involucral bracts finely glandular; ray flowers 44-75, white; achenes hairy, with a pappus of 13-18 bristles. Flowers August to early September.
Similar Species: Other high elevation Erigeron in the region are either rhizomatous and mat-forming in habit, or are taller and looser. Erigeron kuschei, from southeastern Arizona in the Chiricahua Mountains, forms rosettes at the tips of horizontal rhizomes. Its upper stem leaves are clasping and broader at the base.
---
Distribution: New Mexico, southern Catron County, Mogollon Mountains.
Habitat: Andesitic dikes in otherwise rhyolitic rock; growing from bedrock cracks in open areas in upper montane to subalpine conifer forest; 2,900-3,100 m (9,500-10,200 ft).
Remarks: A very narrow endemic of the Mogollon Mountains in southwestern New Mexico. It is presently known from only two locations in the vicinity of Whitewater Baldy. Each population consists of only a few hundred plants.
Conservation Considerations: All of the known populations of this species are within the Gila Wilderness, which burned severely in 2012. Plants persisted through the fire because they were somewhat protected on rock outcrops. Additional surveys of suitable rock outcrops within this remote region are needed to determine the presence of other populations. Climate change may impact this species in the long run.
Important Literature (*Illustration):
*New Mexico Native Plants Protection Advisory Committee. 1984. A handbook of rare and endemic plants of New Mexico. University of New Mexico Press, Albuquerque.
Knight, P. and A. Cully. 1985. Status report on Erigeron hessii. New Mexico Forestry Division Report submitted to U.S. Fish & Wildlife Service, New Mexico Ecological Services Field Office, Albuquerque.
Reed, S. 1996. Genetic variation and population structure in four rare species of Erigeron from the American southwest. Unpublished MS Thesis, University of New Mexico, Albuquerque.
*Nesom, G.L. 1978. Erigeron hessii sp. nov. and Erigeron kuschei Eastwood (Compositae), two closely related narrow endemics from the southwestern United States. Brittonia 30:440-446.
Roth, D. 2016. Wildfire Impacts on Species of Concern Plants in the Gila National Forest, New Mexico. Unpublished report prepared by EMNRD-Forestry Division, Santa Fe, NM for the U.S. Fish & Wildlife Service, Region 2, Albuquerque, NM. 48 pp.
Information Compiled By: Robert Sivinski, 1998; updated 2016
Agency Status: