Erigeron rhizomatus
(Zuni fleabane)
[taxon report]
[distribution map]
[all photos]
[line drawing]
---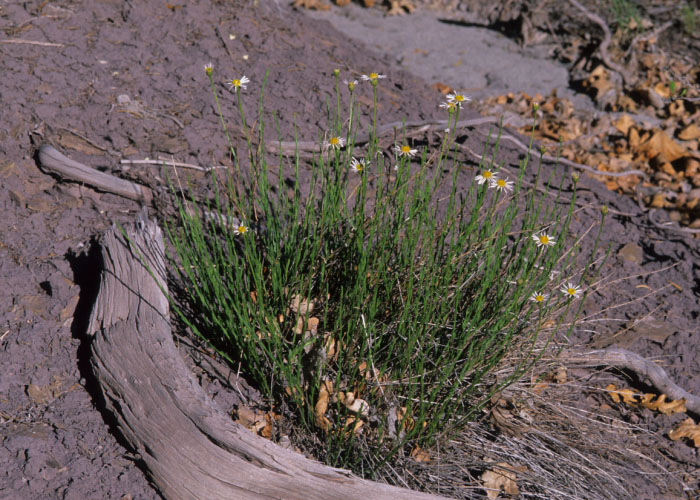 ---
Family: Asteraceae
Scientific Name: Erigeron rhizomatus Cronquist
Synonyms: None
Vernacular Name: Zuni fleabane
R-E-D Code: 2-2-3
Description: Herbaceous perennial with creeping rhizomes; stems 2.5-4.5 dm tall, sparsely branching from near the base, growing in clumps to about 3 dm in diameter; leaves alternate, oblong, about 1.0 cm long, glabrous except for occasional ciliate hairs on the margins; flower heads solitary terminating the branches, 13-16 mm wide, involucral bracts in several series; ray flowers 25-45, white or tinged with blue-violet, 6-7 mm long and 1.3-1.5 mm wide; disk flowers yellow; achenes 5-6 nerved, nearly glabrous, pappus 25-35 fragile bristles with a few short outer setae. Flowers May and June.
Similar Species: This is a very distinct species of Erigeron. The nearly glabrous achenes with 5-6 nerves, the rhizomatous habit, and the few hairs on the stems and leaves provide easy recognition.
---
Distribution: New Mexico, Catron, McKinley, and San Juan counties; Arizona, Apache County.
Habitat: Nearly barren detrital clay hillsides with soils derived from shales of the Chinle or Baca formations (often seleniferous); most often on north or east-facing slopes in open pinyon-juniper woodlands at 2,200-2,400 m (7,300-8,000 ft).
Remarks: This plant is know from 3 locations in the Zuni Mountains near Fort Wingate, 28 locations (probably more) in the Sawtooth and northwest Datil mountains, and at least 3 locations in the Chuska Mountains on the Navajo Nation.
Conservation Considerations: The distribution of Erigeron rhizomatus is associated with the distribution of uranium deposits in west-central New Mexico. Many of the sites for this plant occur at historical or current mining claims. A 2014 status survey found the Datil/Sawtooth and Zuni Mountain populations in decline, likely in response to prolonged drought conditions.
Important Literature (*Illustration):
Cronquist, A. 1947. A revision of the North American species of Erigeron north of Mexico. Brittonia 6:121-300.
*New Mexico Native Plants Protection Advisory Committee. 1984. A handbook of rare and endemic plants of New Mexico. University of New Mexico Press, Albuquerque.
*U.S. Fish and Wildlife Service. 1988. Zuni fleabane (Erigeron rhizomatus) recovery plan. U.S. Fish and Wildlife Service, New Mexico Ecological Services Field Office, Albuquerque, New Mexico.
Roth, D., and R. Sivinski. 2014. Status report for Zuni fleabane on the Cibola National Forest, New Mexico. Unpublished report prepared by the NM Energy, Minerals, and Natural Resources Department, Forestry Division, for the U.S. Forest Service, Cibola National Forest, Albuquerque, NM.
Information Compiled By: Charlie McDonald, 1999; last updated 2016
Agency Status: