Erigeron rybius
(Sacramento Mountains fleabane)
[taxon report]
[distribution map]
[all photos]
[line drawing]
---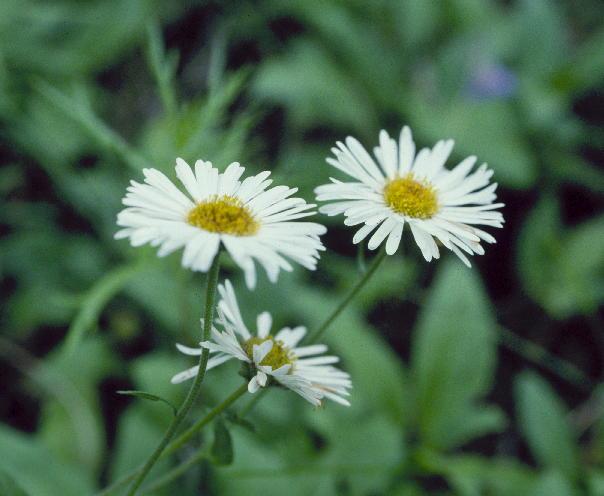 ---
Family: Asteraceae
Scientific Name: Erigeron rybius Nesom
Synonyms: None
Vernacular Name: Sacramento Mountains fleabane
R-E-D Code: 1-1-3
Description: Perennial herb arising from slender woody rhizomes; stems erect, to 3.5 dm tall; basal leaves obovate to oblanceolate 1.8-13.5 cm long, 6-27 mm wide, serrate with small shallow teeth, tapering at the base to a winged petiole; stem leaves similar, becoming gradually smaller and sessile above; flower heads 1-6 per stem on stalks 1-3 cm long; involucral bracts narrowly lanceolate, in three equal series, sparsely to densely pubescent; ray flowers 45-100 per head, white (occasionally drying lilac), 11-20 mm long; achenes oblong, laterally compressed but plump, sparsely appressed-hairy; pappus of 20-30 slender bristles. Flowers July to September.
Similar Species: Other leafy-stemmed Erigeron species in the Sacramento Mountains do not have slender rhizomes.
---
Distribution: New Mexico, northern Otero and southern Lincoln counties, Sacramento and White mountains.
Habitat: Meadows and forest openings in lower and upper montane coniferous forests; 2,100-2,800 m (7,000-9,200 ft).
Remarks: This narrow endemic was only recently distinguished from Erigeron rusbyi, which has a thickened taproot and occurs in southwestern New Mexico and adjacent Arizona.
Conservation Considerations: Often occurs in forest openings created by roads. It is locally abundant and not significantly threatened by the land uses within its habitats.
Important Literature (*Illustration):
*New Mexico Native Plants Protection Advisory Committee. 1984. A handbook of rare and endemic plants of New Mexico. University of New Mexico Press, Albuquerque.
*Nesom, G.L. 1982. Systematics of the Erigeron rusbyi group (Asteraceae) and delimitation of sect. Peregrinus. Systematic Botany 7(4):457-470.
Information Compiled By: Robert Sivinski, 1999
Agency Status: