Eriogonum wootonii
(Wooton's wild buckwheat)
[taxon report]
[distribution map]
[all photos]
[line drawing]
---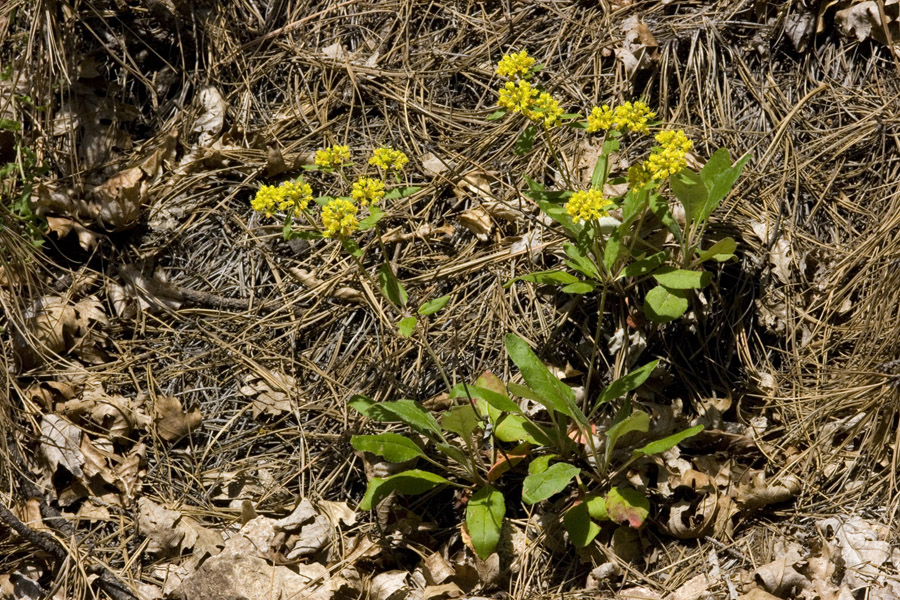 ---
Family: Polygonaceae
Scientific Name: Eriogonum wootonii (Reveal) Reveal
Synonyms: Eriogonum jamesii Bentham var. wootonii Reveal
Vernacular Name: Wooton's wild buckwheat
R-E-D Code: 1-1-3
Description: Tufted perennial herb forming mats up to 5 dm across; leaves broadly elliptic, 3-5 cm long, 1.5-3.0 cm wide, margins entire, green above, white tomentose below; inflorescences branched 3-5 times, 2-5 dm tall; bracts leaflike, those of the first node elliptic, 2-4 cm long, 0.7-1.8 cm wide; flowers clustered within involucres, yellow, each basally stipitate on short, slender stalk; seeds three-angled, not winged. Flowers June to September.
Similar Species: Eriogonum wootonii is distinguished from the varieties of Eriogonum jamesii by its broader leaves with entire margins, large inflorescence bracts and yellow flowers. Eriogonum heiracifolium is another yellow-flowered perennial wild buckwheat that occurs in the Sacramento Mountains. It does not form broad mats and its flowers are sessile (not stipatate).
---
Distribution: New Mexico, Lincoln and northern Otero counties, Sacramento, White and Gallinas mountains.
Habitat: Mountain slopes and small openings in lower and upper montane coniferous forest; 1,800-3,500 m (6,000-11,500 ft).
Remarks: Endemic to the Sacramento, White, and Gallinas mountains of south-central New Mexico, but relatively common within this limited range. An attractive plant that may be suitable for ornamental use in rock gardens.
Plants were discovered in the Gallinas Mountains in northern Lincoln County in 2006. This discovery represents a northern disjunction of about 60 miles.
Conservation Considerations: This plant is abundant and not significantly threatened by the land uses within its habitats. Its response to forest fire has not been studied.
Important Literature (*Illustration):
*New Mexico Native Plants Protection Advisory Committee. 1984. A handbook of rare and endemic plants of New Mexico. University of New Mexico Press, Albuquerque.
Reveal, J.L. 1976. Eriogonum (Polygonaceae) of Arizona and New Mexico. Phytologia 34(5):409-484.
Flora of North America Editorial Committee. 2005. Flora of North America, volume 5. Oxford University Press, New York.
Information Compiled By: Robert Sivinski, 1999; last updated 2007
Agency Status: